When a visitor lands on your website, the visual design is likely to be the first thing they'll notice. It's also usually the thing they'll remember most.
75% of consumers reportedly judge a business's credibility based on its website design. This first impression can make or break a prospective client's interest in working with you.
The ultimate goal of your website is to attract and retain as many prospects as possible, and then convert them into clients. But most websites are designed in a way that leaves those goals unfulfilled, failing to reach their full potential.
With that in mind, your visual identity should be treated as a top priority within the overall design of your website. Believe it or not, this can have a significant influence on the growth and success of your business.
When working on a web design project, you should always go through a careful visual exploration phase to find the right visual identity for your website.
Whether you're going through a full company rebrand or just refreshing the style of your website, it's important to ensure your design is tailored to your specific target audience. This is how you begin to drive business growth through your website.
Without a visual exploration process, your website may not convey your company's brand identity and values as clearly as you'd like it to.
In this article, we'll outline the steps taken so you'll know what to expect when working on a website design project.
What Does the Process Involve?
The purpose of this process is to define the best visual direction to take with your site.
This is a crucial aspect of your overall design, with aesthetic elements being brought together to create a look and feel that engages your site's visitors and retains their attention. To achieve that, your visual design needs to establish a connection between your audience and your brand immediately. It should also demonstrate why your visitors should work with you.
Exploring your visual identity will cover a wide range of elements, including:
Your brand
Your company values
Your colour scheme
Your typography
Imagery and other visual content
Structuring of pages
And other visual components that are used to tell your brand's story across your website's design.
What are Mood Boards and How Can You Use them?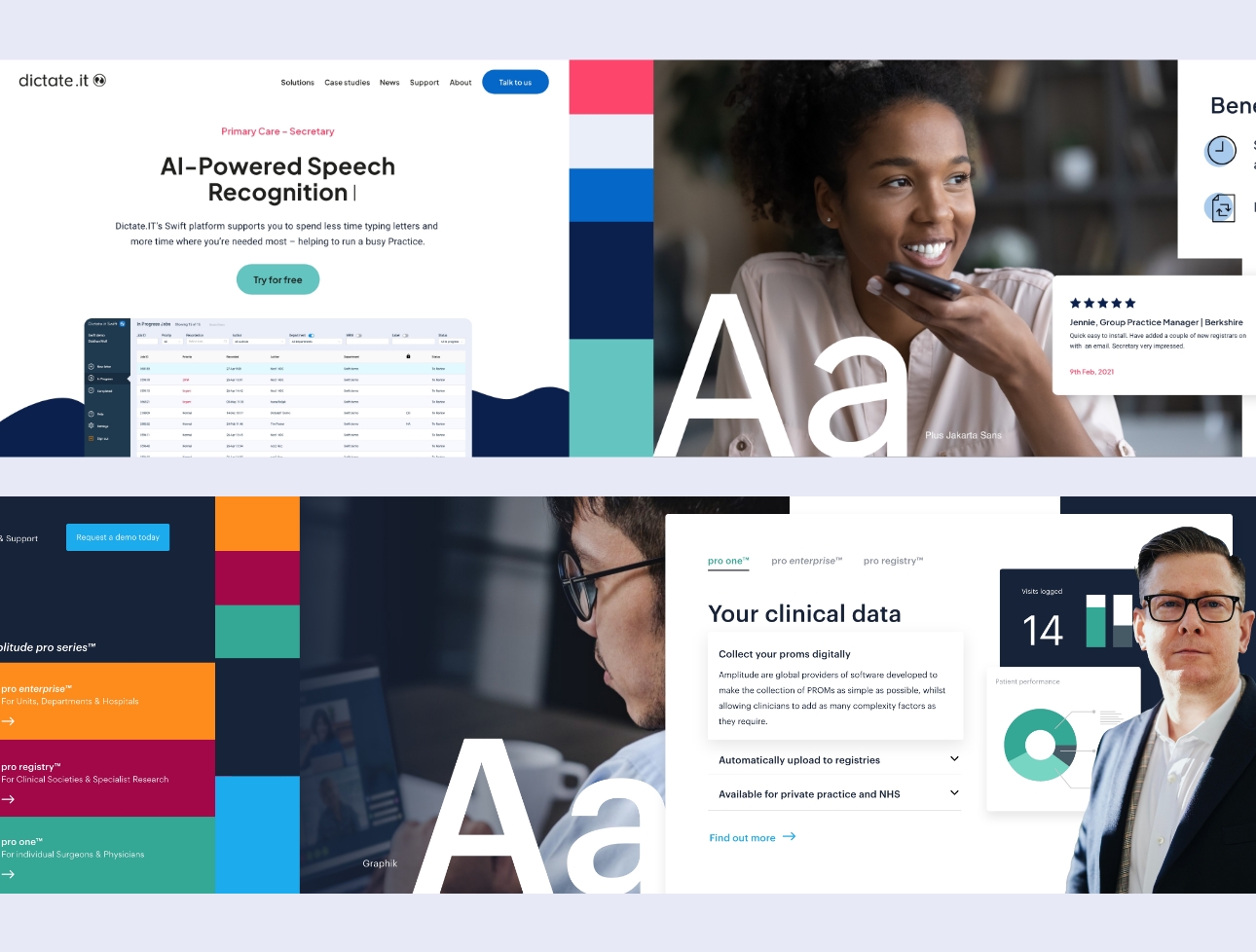 The main tool used to help determine the right visual identity is a set of mood boards.
These are a visual compilation of all the various elements that make up your website's visual design. Each mood board is essentially just a single-page collage of design styles based on previous discussions and the findings from the research and planning phase of the process.
The aim of these is to capture your brand's visual style and tone. This will give the stakeholders, and your designers, a shared understanding of the design you're working towards.
Mood-boarding helps you visualise the work on your website's design before it begins and agree on a design aesthetic that accurately reflects your brand identity and values.
Think of this like a problem-solving exercise. Your design agency will take a research and data-driven approach to conveying your brand identity, while also catering to your target audience and accommodating the latest industry trends.
Collaboration and Iteration
Like most processes within web design and development, this visual exploration process should be collaborative and iterative.
You'll typically be presented with a mood board and a set of ideas by your agency partner, then given the chance to provide feedback across several rounds of revisions.
Rounds and revisions are always important in any creative process. It's usually necessary for your agency to develop and present a minimum of three mood boards before the optimum aesthetic is agreed upon. This is a crucial step towards the ultimate goal of creating a new website that accurately reflects your brand and has a positive impact on your target audience.
Connecting with Your Clients Through Design
Your website's visual identity is what makes your brand resonate with your target audience. Your design needs to clearly convey the values of your business, the quality of your products and services, and the reason why your visitors would benefit from working with you.
Working through this visual exploration phase is an important step towards designing a website that will attract more visitors and increase your conversions.
Once this visual exploration is complete, the next phase of your web design process will be to craft your website's user experience (UX).
Would you like these insights straight to your mailbox?
Infinite Scroll vs Pagination. Which is better for you?

We recently had a friendly debate in our office of which we thought was a better experience but putting personal bias aside there is no right or wrong answer. It all depends on the type of service you are providing.

Content is what defines your website and the reason why your audience will return again and again. Choosing the right browsing experience based on your unique content will enrich the experience rather than leave your audience feeling confused and frustrated.

What is infinite scrolling?

I think it's fair to say at some point we have all fallen down the rabbit hole of endless scrolling. In short infinite scrolling is a technique used to fetch a continuous source of information as a user reaches the bottom of a page. Pinterest and Unsplash are great examples of the use of dynamic content.

What is pagination?

Pagination is the sequence of numbers used up to divide pages of content that a user can control, you'll see this commonly used on large e-commerce sites or information websites that update content regularly.

The pros and cons of:

Infinite scrolling

Pros:

Continually scrolling as we know is addictive, a pro…debatable but it does have a better usability experience than clicking

There is a better chance of user engagement

Users have the opportunity to discover new content with little to no thinking

Thanks to social media continuously scrolling on mobile has become the prefered way to interact with content

Cons:

There is no way for the user to reference or bookmark content of interest
If done incorrectly it can have an impact on site performance as the page needs to load infinite content as the user scrolls
Your user will never reach the footer which may house important information for them

Pagination

Pros:

Your pages will have a good conversion rate because as people are searching it will show in a specific list of items
It will give your users a scene of control and clarify how long it will take them to find what they are looking for.
A returning user will be able to identify quickly where the content is

Cons:

It obstructs the user experience which will lead to lower engagement rates
If not implemented properly can cause confusion
So which one is better for you? The bottom line is no ideal or stronger one, it all comes down to your UX and content requirements. The best thing to do is to analyse web and user goals and make decisions based on them.

Would you like these insights straight to your mailbox?

Speak our language: UX/UI Glossary

For designers, it's almost an impossible task to effectively deliver a project without understanding the joint language of design. This terminology and jargon can often get thrown around in meetings, although it's good practice to read the room and speak a mutual language it's good to get a little insight. Below is a glossary of essential UX/UI terms grouped into topics.

General terms

Accessibility
A measure of a web pages usability for a range of people, including people with disabilities.

Design system
A document that houses design components and styles to use across a website or product, ensuring consistency.

Design thinking
The process of creating and executing strategic ideas that solve problems.

Flat design
A form of design that focuses on minimalism using 2D elements and strong colours.

Human-centred design
An approach that finds solutions with a human perspective in every step of the design process.

Information architecture
Or otherwise known as a sitemap, is the structural design of information.

Landing page
A stand-alone page that a person lands on after clicking from a digital location.

Onboarding
A flow that guides the user through a set of instructions such as choosing preferences, product usage and UI elements.

Responsive design
A design and usability process that adjusts content based on the device screen size.

UI Design
This determines how an interface will look and guide the user on how to interact with a product such a colour choices and layout.

Usability
The quality of the start-to-end user experience.

UX Design
The process of determining how a digital product should work based on relevant user research and best practices.

Acronyms

CTA (Call to action)
A graphical component that guides the user through the main flow and encourages them to take a specific action. Normally it will be the element that stands out most on a page.

CWV (core web vitals)
Are three metrics that score a user experience loading a page, those are: how quickly content loads, how quickly a browser loads the webpage and how unstable the content is as it loads.

GA (Google Analytics)
A web analytics service offered by Google that tracks and reports web traffic.

KPI (Key performance indicators)
A Performance measurement approach based on certain metrics over a certain time period.

MVP (minimum viable product)
A version of a product that is released with just enough features that deliver on the initial user needs to then improve and develop further.

PM (Project manager)
A person that leads a team in order to achieve all the project goals in a set of timelines.

SVG (Scalable Vector Graphic)
A two-dimensional vector-based graphical element that is scalable and widely supported across the web.

SWOT (strengths, weaknesses, opportunities and threats)
A marketing tool that identities assess your business and analyse your competitors.

Design Process

A/B testing
A UX method that involves showing two versions of a specific page or product to see which one works better.

Card sorting
A technique that can be used by both UX designers and users that help determine the information architecture of the product based on logical ordering.

Cluster mapping
In other words, an affinity diagram is for sorting UX user findings into organised sets to lay down the foundations for desirable features.

Competitor analysis
A research method that shows strategic insights into a competitor's features, functions and even visual positioning.

Eyetracking
A study that allows researchers to evaluate the movements of a particular user when they are using a product.

Focus group
Typically a researcher will talk to a group of people to find out opinions and generate ideas on the product or service.

F shaped pattern
Is a layout designed to guide the user's eye to specific information based on human behaviour.

Mockup
A visual representation of a product in an environment could be a concept or the finished product.

Moodboard/style scape
Is a collection of visual inspiration gathered from an initial concept to visually communicate an idea.

Prototype
Is an early version of a product that is simplified to test main user journeys and functionalities.

Sketch
There will always be a place for pen and paper. At this stage in the prototyping process, a researcher can quickly come up with design solutions and compare them to determine the best one.

Storyboard
A visual way of communicating the user journey. 

Usability testing
An approach that is done typically throughout the whole design process, ensuring that the product has ease of use and matches the user's requirements.

User flows
A flow that represents a users task from an entry point to a desirable end one.

User interview
A one-on-one chat that can gather information for a user persona and insight on their behavioural habits on a product and or service.

User journey
Like the user flow, a user journey is a route that maps out their journey from beginning to end, the difference is that a journey includes emotions and behavioural choices.

User Stories
A narrative-based resource that sums up the patterns of how they interact with the product, focusing on motivations and frustrations.

Wireframes
A low-fidelity design that focuses just on structure and layout without clouding the mind with visuals. Its purpose is to ensure the interaction between user and interface is solid.

Design elements

Breadcrumbs
A layered component that allows users to navigate through multi-level pages.

Contrast Colour
Ensuring there is enough visibility between two colours to the layer or text is legible and ideally meets WCAG standards.

Grid
Is a layout system with rows and columns, making it easier for designers and developers, also for making clean and symmetrical interfaces for users.

Layout
The order of certain content such as text and images are laid out on a page.

Navigation
An organised hierarchy of information allows the user to find the information they are looking for.

Typography
Typeface or Font. there is a difference. A Font is a weight or variation of a typeface and typography is the arrangement of those styles to ensure it's legible and appealing.

White space
Or negative space is the strategic positioning of elements on a page so they have room to breathe and for people to absorb content. 

Widget
A self-contained design component that has certain functionality. 

Would you like these insights straight to your mailbox?

SoBold become only 3rd Platinum Certified Cookiebot Partner in the UK

SoBold are delighted to become only the 3rd Platinum Certified Cookiebot Partner in the United Kingdom.

Cookiebot consent management platform (CMP) is a leading compliance solution that detects and controls all cookies and trackers in use on a website, and automatically manages end-user consents.

SoBold have been working closely with Cookiebot since the new General Data Protection Regulation (GDPR) came into place on 24 May 2018 providing their clients with transparency and control over the cookies used on their websites. Since partnering with Cookiebot as a reseller, SoBold have worked with clients including Transport for London and the London Transport Museum to develop bespoke implementations of the Cookiebot CMP. More information on SoBold's work with Transport for London can be found here.

In October 2022, Cookiebot launched a tiered partner and certification program. As a leading Cookiebot reseller SoBold has been named as a Platinum Certified partner, highlighting its expertise with the Cookiebot platform and data privacy compliance in general.

By becoming a Platinum Certified Cookiebot Partner, SoBold will be able to continue to offer more support to leading businesses needing bespoke Cookiebot solutions.

Cookiebot Sales & Channel Manager, Grant MacInnes said:

Congratulations to Sam Phillips & SoBold on joining our very elite group of platinum certified resellers. Looking forward to continuing to work closely with you and the team over the coming months and years.

SoBold Technical Director, Sam Phillips said:

By becoming just the 3rd Platinum Certified Cookiebot partner in the UK we have continued to cement our position as a leading Cookiebot reseller. Having been one of the first resellers of Cookiebot in 2018, our partnership with Cookiebot continues to go from strength to strength and we are looking forward to developing more bespoke implementations for Cookiebot's enterprise user base as a fully certified partner.

Would you like these insights straight to your mailbox?

WordPress vs Sitecore – Comparing Both Content Management Systems

Large businesses and enterprises in need of a content management system (CMS) today are spoilt for choice, because there are plenty of excellent platforms available. From WordPress to Sitecore to Drupal, the technology currently on offer is highly intelligent and intuitive.

But so much choice can make the task of finding the right CMS for your own specific business complicated and time-consuming.

Selecting a CMS is an important decision that requires a lot of research, followed by careful evaluation of all the various options. Of course, those processes can be very time-consuming. When you're already extremely busy juggling dozens of other priorities, it's challenging to give this the attention and effort it deserves.

To solve that challenge, we've done the bulk of the hard work for you. In a new series of articles, we'll provide you with direct, objective comparisons between some of the leading options for CMSs, helping you relieve the headache of researching and evaluating them yourself.

In the first article of this series, we'll be looking at the comparison between Sitecore and WordPress.

How Does the Security Compare for Both Platforms?

As we face ever-increasing concerns with cyber security, data protection, and various other digital challenges, finding a platform with robust security should be a top priority.

Sitecore Security

Sitecore has a reputation of being the leading CMS for large businesses, guaranteeing an enterprise-grade experience that includes a high level of security.

Sitecore's security is also strengthened by the vast range of in-built features within the platform, which we'll discuss in more detail later. There's no need to purchase more third-party software or plug-ins to enhance its functionality, which means you won't be creating any additional vulnerabilities or risks. The platform also receives frequent security updates which bolster your protection even further.

If security is a concern for your business, Sitecore should be high on your list of potential candidates for a CMS.

WordPress Security

For a long time, many people believed the misconception that WordPress isn't secure enough for large businesses. However, industry leaders such as global investment firm Blackstone, the NHS in England, global research and advisory leader Forrester, and multinational bank Standard Chartered now use WordPress for their CMS. This goes a long way to proving that wrong.

Blackstone – Global Investment Firm

In fact, WordPress is already a secure, stable platform out-of-the-box. So, where did this myth come from?

Well, vulnerabilities can arise in certain scenarios. Firstly, strong security with any technology is dependent on a well-managed hosting environment. If you have WordPress hosted in a secure environment from an experienced provider, with proactive security measures in place, your risk will be extremely low.

Secondly, plugins are something to be cautious of when it comes to security, both in terms of where they come from and keeping them properly maintained. Security threats will be minimised if you only use plugins from trusted sources. You should also ensure you always keep them tested and updated, ideally working alongside security-specific plugins like WordFence.

We appreciate this may sound like a lot of work. That's why all the examples of the businesses succeeding with WordPress have the support of an agency partner who ensures all these things are taken care of during the development stage. It's worth noting, though, that this will also be the case when adopting any CMS in a business setting.

Which Platform is More Scalable?

One of the most important aspects of a CMS is its scalability. A CMS is a long-term investment, and this is one of the most influential factors in determining whether that investment will be successful or not.

You'll need to ensure your site can evolve as your business grows and your needs change over time. This will require an infrastructure that can quickly and easily scale with more pages, additional functionality, and perhaps even more sites, without the burden of hefty costs for more development work.

How Scalable is Sitecore?

Sitecore is designed specifically for large businesses, so its scalability is up there with the very best. Sitecore is a robust platform that allows your digital presence to grow seamlessly as your business grows, even if you need to build multiple sites to serve different groups of users in different languages.

How Scalable is WordPress?

WordPress is another highly scalable platform. Despite some still mistakenly believing that WordPress is suited to smaller businesses, you can use the CMS to build sophisticated, industry-leading sites. Like Sitecore, WordPress is agile and scalable enough to grow alongside your business and adapt to your changing requirements.

How Capable are these Content Management Systems?

The main purpose of a CMS is to provide a software-based infrastructure upon which you can build and manage websites and applications. While most CMSs are similar on the surface, with the same fundamental functionality, they each have unique features and capabilities that differentiate them

For example, one critical indication of quality for a CMS is how easy it is to use. Once you've adopted a platform, you and your colleagues will need to feel immediately comfortable using it on a daily basis. If a CMS can't provide good usability, it's probably one you should avoid.

Sitecore as a Content Management System

Sitecore is actually considered a fully managed 'digital experience platform' that comes with more capabilities than the average CMS.

Most of its best features are readily available as soon as you begin using Sitecore. That allows you to get a high quality site live very quickly without additional work within the platform.

However, Sitecore typically provides quite hierarchical, complex workflows that might be frustrating for small or agile teams. This can also create longer development cycles than usual, giving you a slower time-to-market than more intuitive systems like WordPress.

WordPress as a Content Management System

WordPress is easily the most popular CMS in the world right now, with around 45% of all websites built on the platform. One of the main reasons for that is its ease-of-use, with simple and efficient content management

This usability allows you to get up-to-speed quickly and share responsibilities across several members of your team, even if they have no previous content management experience.

WordPress also makes it convenient to edit content on a page-by-page basis, saving you valuable time, with its block-based design an ideal method for customisation and site management.

How Much Personalisation do they Provide?

The ability to customise and tailor your site's content to your target audiences is more important today than ever before, with so much of modern business now taking place online. Therefore, this is another important point to consider when choosing between your various CMS options.

Personalisation in Sitecore

When compared with other platforms, Sitecore's personalisation is excellent. Sitecore will provide you with a great deal of control over the structure and design of your pages, allowing you to tailor your user experience and drive greater performance for your site.

This is particularly useful for larger businesses with high volumes of potential site visitors, delivering competitive differentiation and driving increased conversion rates.

Personalisation in WordPress

WordPress is also highly customisable. You can use its flexibility to get creative with your design, and build bespoke features and functionality to better engage with your audience.

There's not much to separate Sitecore and WordPress in this area. The gap in personalisation becomes even smaller if you find an experienced agency with WordPress-specific expertise to help develop your site and improve your customer experience.

Integrating with Other Systems

Before your business invests in any digital platform, it's important to ensure that technology can integrate easily with your existing software. Whether it's your customer relationship management (CRM) or any other marketing systems, any digital tools you currently have should ideally be compatible with your new CMS.

How Sitecore Integrates with Other Systems

Sitecore integrates well with other systems. It allows you to achieve out-of-the-box integration with most of the leading CRM software, and plenty of other digital tools and platforms.

How WordPress Integrates with Other Systems

WordPress tends to be the easiest platform to integrate with your existing systems, because most brands and other SaaS products have already made themselves compatible.

This means you can deploy WordPress with minimal disruption, regardless of whether you're building a new site from scratch or migrating your current site from a different CMS.

Total Cost of Ownership (TCO)

Of course, you'll also want to ensure you're getting a solution that will deliver good value for money. With a CMS, the total cost of ownership (TCO) can vary greatly from one platform to another, due to factors like licensing fees and update-driven maintenance.

Sitecore Initial Investment and Ongoing Costs

Sitecore is an expensive option, even if you have a large budget to work with. You'll be required to purchase licences for the platform with an ongoing renewal fee each year. These licenses come in tiers, so if you want to access the full range of benefits from Sitecore you'll have to opt for the most expensive offering.

On top of that, you'll also need to account for development costs with an agency, hosting costs, maintenance and support fees, and various other expenses that give Sitecore a very hefty total cost of ownership (TCO).

Furthermore, Sitecore requires ongoing management and maintenance to handle regular large-scale updates to the platform. When updates occur, new versions of the software come with a big price tag and may cause you to pay for additional development work to get your site up-to-speed.

However, this could be a worthwhile investment if Sitecore's features and capabilities are necessary for your specific requirements. If you're looking for a quality, trustworthy enterprise-grade platform, Sitecore can justify the cost.

WordPress TCO and Value

Conversely, WordPress is a much more cost-effective solution with a drastically lower TCO. Licenses for WordPress come at no cost and the software is entirely open-source. That means your implementation costs would be limited to just hosting, agency fees, and post-deployment support.

If you decide to use any plugins or extensions of the platform, these will be licensed and paid for separately. However, businesses rarely need to bolt on many new tools or capabilities because WordPress is such a feature-rich platform already.

When WordPress is updated, unlike Sitecore, managing and testing your site can be done in just a few hours at a much lower cost.

WordPress vs Sitecore TCO comparison

A Word on Agency Partners

One thing both Sitecore and WordPress have in common is the small selection of platform-specific agencies who can build high performance sites for large businesses using this technology.

A CMS becomes far easier to use, and easier to drive strong return on investment (ROI), if you have a specialist partner supporting you.

Finding an agency with the necessary experience and expertise to help you leverage these platforms to their full potential should be another important influence on your choice. From integration, to development, to maintenance, all the benefits and advantages of the platforms will require an agency to help you fully unlock them.

How to Make Your Decision

So, with all that information, how can you decide between the two?

Both of these platforms are excellent options that would serve most businesses extremely well. After all, there's plenty of good reasons why some of the biggest companies in the world use Sitecore and WordPress.

Ultimately, when looking for a CMS that's the right fit for your specific business, you should make a detailed assessment of your strategic objectives, unique requirements, budget, users, and other important factors. Use that to determine which solution is most capable of meeting those needs.

If you still need more help working through this process, read our comprehensive guide to understanding and evaluating the enterprise options for large businesses here.

Would you like these insights straight to your mailbox?

Exploring the End-to-End Process of Web Design

Summary

In this article, we'll outline the end-to-end steps of what takes place in a thorough user experience (UX) and user interface (UI) web design process and discuss what modern web design requires to be successful.

—

You may have read our in-depth guide to creating a brief for a web design and development project. A brief can be used to capture all your ideas and requirements before discussing your project with any web design and development agencies.

Once you've completed your brief, and evaluated your options for agency partners, you'll be ready to launch into your website project.

An end-to-end website project is typically organised into phases, which will usually be structured as follows:

Design
Development
Quality Assurance Testing
Migration and Launch.

We've provided a detailed breakdown of these phases in a recent series of articles. This series is intended to give you a clear understanding of the full end-to-end process involved when working with an agency to design and develop a website. This will help you remove any apprehension heading into this kind of project and set you up for success.

The Current State of Web Design

"Design is not just what it looks like and feels like. Design is how it works."

Steve Jobs, Co-Founder and former CEO of Apple.

While web design does focus on the visual aspects of the site, there's a lot more to it than just the aesthetic elements like colour schemes and typography.

Web design is a complex blend of branding, user experience (UX) design, user interface (UI) design, graphic design, content creation, layout and structure, accessibility, and much more.

The design of your website needs to be visually attractive but, more importantly, it also needs to be simple and easy-to-use. Your website needs to find the perfect balance between supporting your strategic objectives and serving your clients with a seamless experience. Of course, that's much easier said than done, which is why it's so important to find an experienced partner you can trust to guide you through the process.

Outlining the Web Design Process

Phase 1 – Research and Planning

The phase that underpins EVERYTHING!

A good agency will have absorbed everything in your project brief. They should also have worked hard to understand your perspective and your requirements from your website, before you've even agreed to work together.

Once you're preparing to launch the project, the research and planning phase will then go beyond that initial information gathering exercise.

The objective of this phase is to define the full scope of the website, including its design, its features and functionality, its content, and everything else involved.

Your site will be discussed in extensive detail, and then research will be conducted into some key areas that will inform your design and development, such as:

Strategy
Website Data
Target Audience
Industry Landscape
Competitors.

Whether you're making small updates to an existing design or completely rebranding your business, it's equally important to use this research to inform every decision you make. That's because every element of your site's design must be made to support your business goals and serve your target audience with a great user experience (UX).

This research and planning phase is essential in enabling you and your agency partner to do that.

Phase 2 – Visual Exploration

This exploratory phase involves defining the most appropriate and effective visual direction to take with your site.

The main tool used to help determine the right visual identity for your website is a set of mood boards. These are a visual compilation of different options for colour, typography, structure, images, and other visual components that are used to tell your brand's story through your website's design.

A good agency partner will usually present around three mood boards to help shape the direction, then collaborate with you to narrow it down to one final version.

Visual exploration, like most processes within web design and development, will be collaborative and iterative. You'll be presented with ideas by your agency partner, then given the chance to provide feedback across several rounds of revisions.

Phase 3 – User Experience (UX) Design

The UX design process is the phase in which you work with your agency's UX specialist to create a blueprint of the website functionality.

This involves creating wireframes (either low-fidelity or high fidelity) that help you visualise the design and outline your website visitors' flow through the pages into your main calls-to-action. This is the way the website's design works strategically to drive outcomes that align with your business goals.

This phase takes place before working on the site's visual design to ensure the two separate aspects complement each other.

Phase 4 – User Interface (UI) Design

From there, your user interface (UI) will be designed. The styles, fonts, and look and feel of the site from the mood boards will be applied to the wireframes.

Your agency will likely present you with a design for your homepage before moving on to the rest of the site. This will typically be done on a desktop screen size, but it can be done on mobile if you want to take a mobile-first approach. Once this is complete, it will then be designed across the relevant breakpoints.

After completing this process, your agency partner will be ready to enter into developing your website.

Making Complex Processes Simple

As technology continues to become more advanced, more and more of our daily lives now take place in a digital-first context. This means:

Your target audience now has a shorter attention span, and less patience when browsing websites and services online
Your target audience also has more choice of options than ever before when choosing who to buy from.

In order to succeed, your website's design requires careful planning, research, and a strategic approach if it hopes to meet the demands of the modern client.

Working with a specialist design and development agency is a proven approach to ensuring you gain a website that meets your requirements and delivers on the expectations of your target audience.

Completing a process like the one outlined in this article will enable you to design a website that can become your clients' go-to online source when they have a need.

As mentioned earlier, we've provided a step-by-step guide to each of these phases to make the process even easier for you.

To learn how to easily navigate the research and planning phase of a web design and development project, read our next article here.

Would you like these insights straight to your mailbox?