Before you begin working on the design elements of a website project, it's important to begin with, what we at SoBold call, a research and planning phase.
The purpose of a research and planning phase is to ensure that every single decision you make about your design will result in a more effective website, both in terms of your business goals and your users' needs.
During this phase, you'll work alongside your chosen agency to define the full scope of your website and all its requirements. This phase will also involve looking closely at your target audience, trends in your market, your competitors, and any data available from your existing website.
This research is extremely useful in shaping the direction you take with your website and helping you to capitalise on certain trends that may align with your strategic objectives.
In this article, we'll explain how a research and planning phase works to help you know what to expect when entering your own website design project.
If you'd first like to gain a better understanding of the full end-to-end process of web design, read our previous article here.
Website Strategy Workshop
A research and planning phase usually begins with a strategic workshop. This workshop will bring all the relevant stakeholders together, either in person or over a video call, to agree on the goals and parameters of the project.
A workshop is a great collaborative environment to help your agency become even more familiar with your brand, your target audience, and the outcomes you're looking for from your new website.
Your agency should work closely with you to determine how the objectives you have for your new website feed into your wider business goals. That will be the key to finding the right approach to designing your website.
Once the workshop is completed, the research can begin.
Leveraging Data to Dictate User Experience (UX) Decisions
Every decision you make about your website's design needs to be informed and justified by data.
As it's becoming increasingly difficult to capture and retain your audience's attention, nothing can be left to chance. It's also negligent to overlook the vast range of valuable insights available to you within your data, and the data in the public domain.
Google Analytics
Your agency should begin by analysing the performance of your website in Google Analytics. This can help to help understand the current behaviours and trends from your website users.
Most businesses use Google Analytics, but few understand the right things to measure. For many businesses, Google Analytics is an untapped gold mine of data and insights that can help you improve site engagement, retain more visitors, and ultimately grow your business.
You can conduct a thorough analysis of things like:
1 – Your Audience Acquisition
Google Analytics can help you identify where your visitors have found you and accessed your website from.
Whether through organic search, social media, direct, or referral, you'll learn how all your visitors are acquired. This information is vital, as it can allow you to tailor different parts of your website to certain visitors at various stages of their journey with you.
For example, if organic traffic is a key driver of your website traffic, it's important for your agency to ensure that lots of the hierarchical structure of copy is maintained throughout the site.
This is also helpful in optimising your wider digital marketing strategy, by recognising what's working well and what isn't, from a web traffic perspective.
Bonus Tip – If you're running Google Adwords, make sure your agency partner is aware of all the URLs that need to be redirected, and that this doesn't affect your ad spend.
2 – Your Visitors' Demographics
Google Analytics can provide detailed insights into your website's visitors, with data covering everything from age, gender, location, language, and more. This helps you gain a clear, specific understanding of who's coming to your website, and that can inform important decisions about your design.
It will also help you determine whether or not you're attracting the right audience, which could alert you to a need for changes in your design and branding.
Bonus Tip – If you have a lot of visitors from other countries, you may need to talk to your agency about setting up a content delivery network (CDN) on the hosting server to deliver content from that location.
3 – Your Visitors' Interests
You can use Google Analytics to view information about your visitors' interests, past searches, and other online behaviour. This can help you identify what they're looking for when they're visiting your site. You can then tailor your design and content to match any unaddressed questions, challenges, or needs they might be looking to meet.
4 – Your Visitors' Behaviour
Google Analytics can give you a graphical representation of your visitors' behaviour when interacting with your site. This includes where they've entered your site, where they went next, what their whole journey through your site looks like, and where they eventually left.
This provides great opportunities to optimise certain pages that aren't performing well enough. You can also learn what your visitors respond well to from pages that already have strong engagement.
Mapping your users' journeys may also uncover insights to help you create links between certain services, hone in on special offers that will drive increased conversions, and many other ways to boost engagement.
5 – Your Conversions
Your conversions are a critical measurement of your site's success. Whether you're aiming for subscriptions, demo sign-ups, contact form submissions, downloads, or anything else, failing to achieve your conversion targets means something isn't working.
You can use Google Analytics to set goals for conversions, monitor performance, and highlight areas where you need to improve.
Taking this analytical approach will ensure your website's design is tailored to supporting your strategic objectives.
Bonus Tip – On July 1, 2023, for continued website measurement, you'll need to migrate your original property settings to a Google Analytics 4 (GA4) property. Your agency partner should be on top of this though.
Data Tracking
Next, if applicable, your agency should review any existing tracking resources you have in place on your website.
A successful website design is based on many different factors, each an important component in engaging your audience, converting them into clients, and growing your business.
This is why it's useful to look into key metrics you may use to measure your success against, then use the related data and analytics to inform your design. Tailoring your UX based on your findings will ensure your website is designed specifically to optimise your user behaviours.
Bonus Tip – If you don't have any additional tracking in place, both HotJar and Crazy Egg are great tools to use.
Analysing External Factors
Understanding Your Target Audience
One of the most important parts of building a new website is understanding the preferences of the audience you're targeting. You know what your ideal customer profiles (ICP) look like, but do you understand how they behave when interacting with websites online?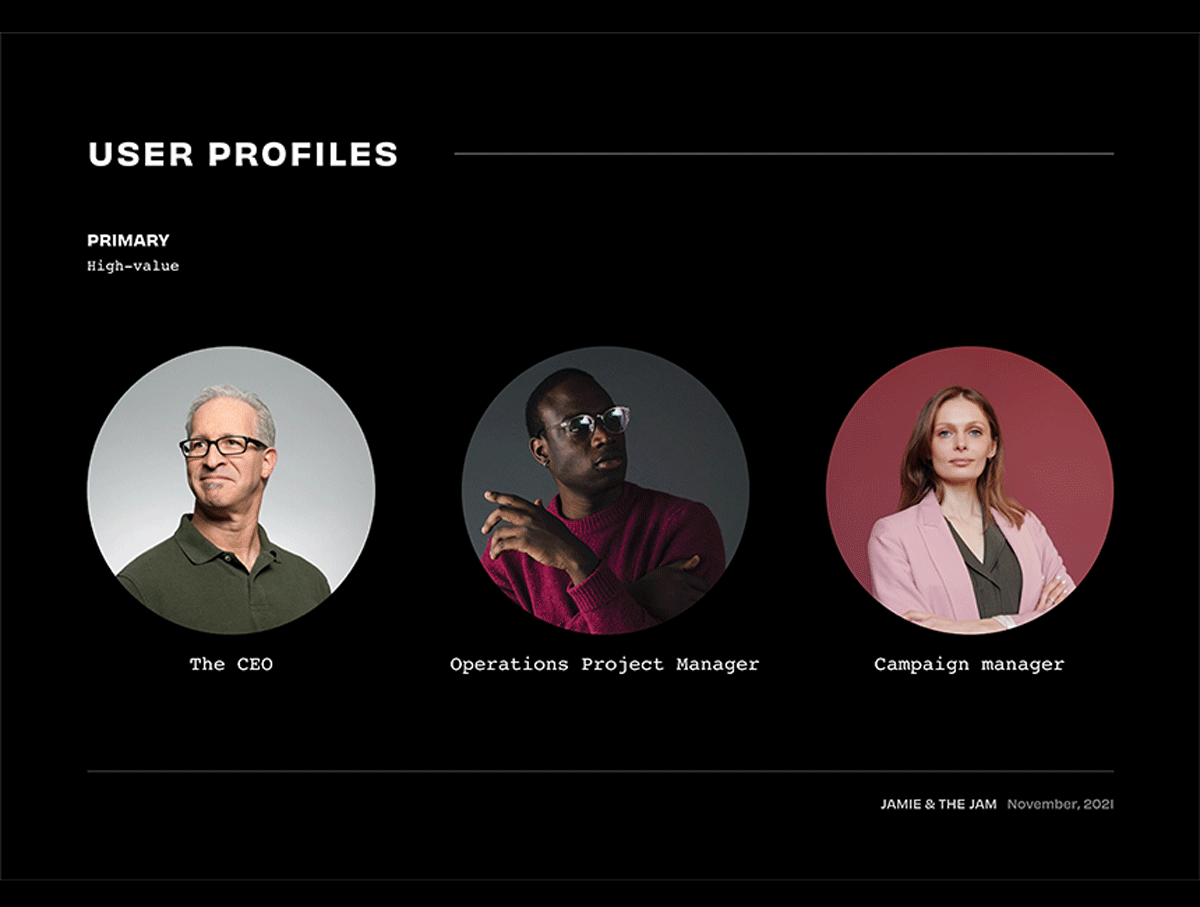 Every decision about your website's design must be made with consideration and empathy for your users. As touched on in the previous section, audience research will include a wide range of variables, including:
Demographics
Goals
Challenges
Motivations
Preferences
Frustrations.
This part of the research will contribute towards building user personas and user journeys at a later stage of the design process.
A user persona is a fictional person that you can use to represent the target audience of your website. These personas will help you focus on the desired interactions between the ideal user and the website you're building. Creating personas also helps to map the users' needs to your goals for the project.
A user journey is a path that a user may take to reach their goal when using your website. Hypothetical user journeys are created at this stage, as they help to identify the different ways the site's design needs to enable the user to achieve their goal as quickly and easily as possible.
With these, you can begin to paint a picture of how your target audience will interact with your website, allowing you to create a satisfying user experience.
Industry Landscape
Researching your industry landscape will reveal a great deal about what to do, and what not to do. An analysis of the wider market you operate in will help you benchmark yourself against industry leaders, and highlight mistakes being made by any businesses lagging behind. It's useful to be aware of any industry trends or points of influence that may inform your website's design as well.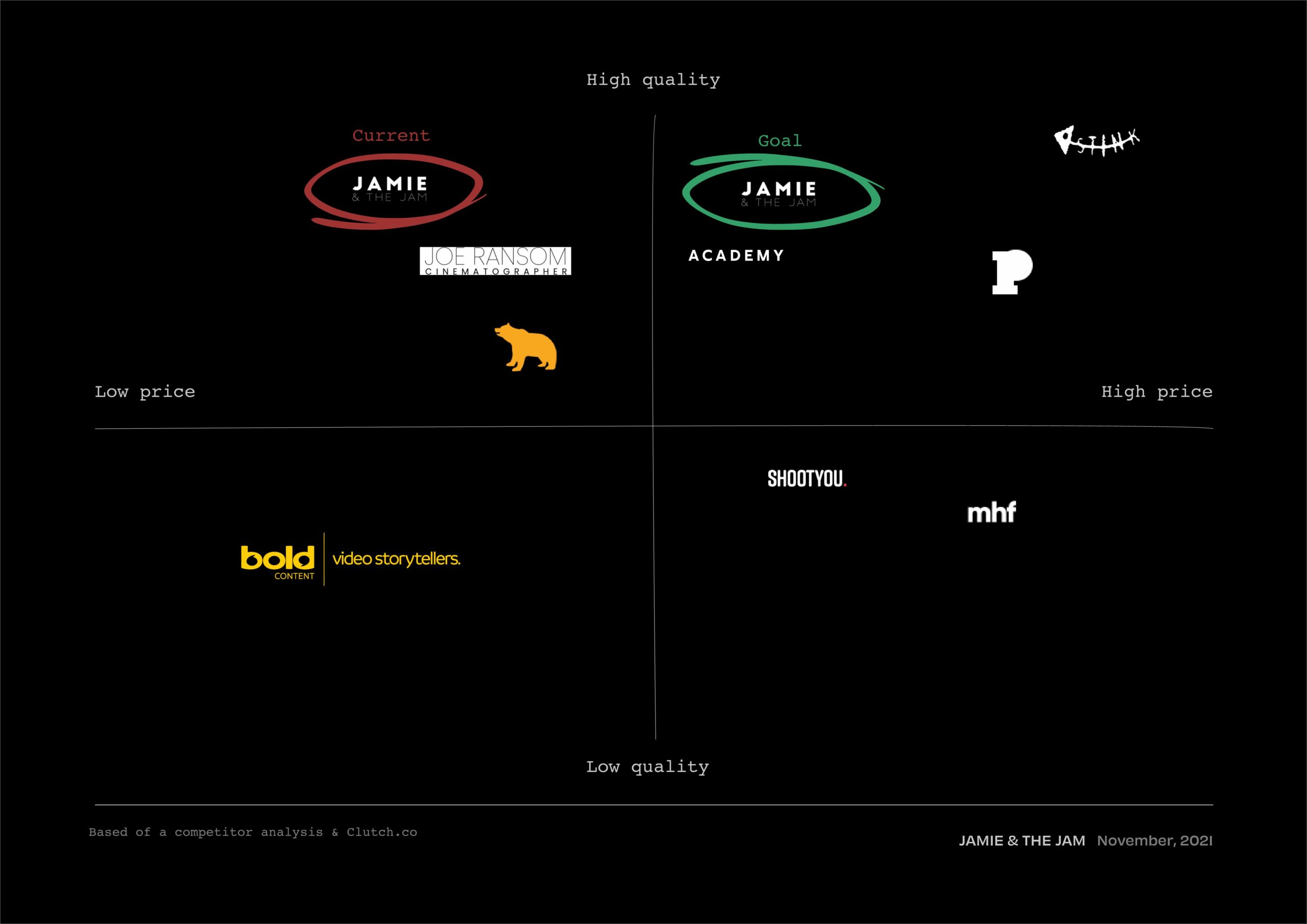 Bonus Tip – You're an expert in your industry. Your agency is not, but they are experts in web design and marketing trends. Work closely together by leveraging each other's knowledge and expertise to paint the full picture of what makes modern websites successful from a design perspective.
Competitor Research
It's also crucial to conduct a thorough competitor analysis to see what the benchmark is for a successful website in your industry. Conversely, some competitors may provide examples of bad design that can help you identify pitfalls to avoid with your own site.
Around five of your competitors is usually a good number to look into. To do this, your agency should work with you on assessing their websites in key areas such as:
Design look and feel
Structure and navigation
Features and functionality
User experience
Content and layout
Calls-to-action
Speed and performance
And anything else relevant to your project.
This research will allow you to recognise opportunities, gaps in the market, important trends, and any other insights you can gather.
Making Data-Driven Decisions
Following all this research, your agency will work on developing a strategy for your website, recommending the optimum route through the rest of the design process.
Your agency will provide a report detailing all the findings from the strategy workshop and research. This should often include a sitemap document and a content framework for your site as well.
An agency should always provide the opportunity for feedback and iterations on crucial documents like this, so you should then be given time to review this and provide feedback.
Bonus Tip – Don't be afraid to ask questions, challenge things you're unsure about, or change your mind during this feedback and revision process. These are big decisions, and it's important to be 100% sure about the direction your website's design is being taken.
Once you've worked through this feedback with your agency and you're happy with everything they've planned, you can then move into the phase of the project that focuses on the visual identity of your site.
Bringing it All Together in the Design
A thorough, well managed research and planning phase is an essential part of designing a successful website. By having a strategy backed up by tangible data in place, you'll be able to work through the remaining phases of the overall design process in a more efficient and effective way.
It also helps anticipate any challenges or potential issues in the design process and allows you to mitigate them before they arise, saving you time and money in the long-run.
This phase is arguably the most important in ensuring your agency can meet your specific requirements and expectations, on time and within budget.
If you'd like to discover what's involved in the next phase of a web design project, exploring the visual identity of your site, read our next article here.
Would you like these insights straight to your mailbox?
SoBold become only 3rd Platinum Certified Cookiebot Partner in the UK

SoBold are delighted to become only the 3rd Platinum Certified Cookiebot Partner in the United Kingdom.

Cookiebot consent management platform (CMP) is a leading compliance solution that detects and controls all cookies and trackers in use on a website, and automatically manages end-user consents.

SoBold have been working closely with Cookiebot since the new General Data Protection Regulation (GDPR) came into place on 24 May 2018 providing their clients with transparency and control over the cookies used on their websites. Since partnering with Cookiebot as a reseller, SoBold have worked with clients including Transport for London and the London Transport Museum to develop bespoke implementations of the Cookiebot CMP. More information on SoBold's work with Transport for London can be found here.

In October 2022, Cookiebot launched a tiered partner and certification program. As a leading Cookiebot reseller SoBold has been named as a Platinum Certified partner, highlighting its expertise with the Cookiebot platform and data privacy compliance in general.

By becoming a Platinum Certified Cookiebot Partner, SoBold will be able to continue to offer more support to leading businesses needing bespoke Cookiebot solutions.

Cookiebot Sales & Channel Manager, Grant MacInnes said:

Congratulations to Sam Phillips & SoBold on joining our very elite group of platinum certified resellers. Looking forward to continuing to work closely with you and the team over the coming months and years.

SoBold Technical Director, Sam Phillips said:

By becoming just the 3rd Platinum Certified Cookiebot partner in the UK we have continued to cement our position as a leading Cookiebot reseller. Having been one of the first resellers of Cookiebot in 2018, our partnership with Cookiebot continues to go from strength to strength and we are looking forward to developing more bespoke implementations for Cookiebot's enterprise user base as a fully certified partner.

Would you like these insights straight to your mailbox?

SoBold's response to COVID-19

In response to COVID-19, we've put in place a number of measures at SoBold to make sure we can continue to provide our services to our clients around the world as well as do what we can to help contain the spread of the virus.

It's helpful to reflect on the fact that we offer a service whereby the performance and outcome of work produced will not be affected at all.

We've moved to full-time remote work

SoBold has decided to close our office in London and have our employees work remotely until further notice.

We're doing this in an effort to help prevent the spread of the virus because, while most SoBold employees are healthy and not in the high-risk category, we appreciate that is not the case for all of those around us, or in the wider community we live in.

We have a responsibility towards these people, including others who work in our building and those we come into contact with during each others' daily commute.

We've set up enhanced support for remote work

We don't believe it'll cause much disruption to the rest of the team and business.

Most of our clients, for example, will be familiar with remote meetings; we regularly host virtual meetings between clients and SoBold.

All team members have access to reliable remote conferencing and workflow tools, so they can speak to anyone either within SoBold or outside of the organisation, whenever they need or want to.

This means we can continue to frictionlessly share and work collaboratively cross-functionally, with the ultimate goal of always delighting our clients and partners.

Free support to those directly affected by the closure of their businesses

We want to give back and help businesses and individuals that have been so badly damaged by the closure of their shopfronts, gyms, restaurants and other businesses in the hospitality industry.

We are offering free website help to these businesses during these tough times.

If you would like to get in touch with a team member about this, please email hello@soboldltd.com

Would you like these insights straight to your mailbox?

Enterprise-Grade Web Hosting Explained

The type of hosting environment you select will have a strong influence on the success of your website. It's important for you to find a secure, scalable web hosting service that you have 100% trust in to deliver high-performance at all times.

To simplify the options available to you, this article will break down the various types of web hosting services, and explore the non-negotiables we believe you should be considering in your criteria when making your decision.

The Fundamentals of Enterprise-Grade Hosting

Some of the most important things to look for with your hosting environment include:

Security – Cyber security is obviously an essential priority, and this should be top of your list of criteria in the current climate.

Performance – Your hosting environment should be set up in a way that makes your site capable of handling large surges of traffic.

Scalability – As your business grows, it's likely that your site's audience will grow. You need a hosting provider with the capacity to scale your services seamlessly to meet your needs, both now and in future.

Resilience – It's important to ensure your hosting infrastructure is robust, and that it can gauruntee you certain performance levels and up-time.

Support – If anything does go wrong, you need to be assured that you have a quick, efficient support service in place to get your site back up and running as soon as possible.

Sustainability – With sustainability a growing priority on the corporate agenda, the carbon footprint of your data centre may be another important factor in your decision.

Option 1 – Shared Hosting Services

Shared hosting services can provide you with a basic secure server for your website. However, as the name suggests, these servers will be shared with a large number of other businesses. You won't have any dedicated server of your own with shared hosting.

This approach does have some advantages, particularly in the area of cost. These shared hosting environments can cost as little as £1,000 per year. However, the down-sides to this often outweigh that cost benefit.

In many cases, the low cost of shared hosting services can often be reflected in the performance levels. This is because, with such a high volume of websites hosted on the servers, your performance has no protection if other sites are experiencing high volumes of traffic.

It's also likely that you'll only have access to limited support services when any issues arise. Many of the shared hosting options will have a ticketing system for support, where you'll be at the mercy of the number of requests ahead of you in the queue. This could result in your website being 'down' during times where it's business-critical.

Option 2 – Private Servers with Shared Hosting Providers

Most shared hosting providers will offer the option of having your own private server for an extra cost. This is often referred to as a VPS, which stands for virtual private server.

Rather than sharing a server with thousands of other businesses, you'll only be sharing with a few others. While this is significantly better than the regular shared hosting options, you can still end up facing similar problems with performance and scalability.

This is another cost-effective approach, though, with some improvements over standard shared hosting. If you rely on an agency to set this up for you, they'll likely put their smaller clients on a shared VPS and give their larger clients their own dedicated servers to minimise any potential problems.

Option 3 – Enterprise-Grade Private Web Hosting

Often the most reliable and trusted approach to take is to have your own dedicated server, which comes with a wide range of additional benefits.

With this option, your website is placed on its own private server in the cloud, managed by a dedicated team of specialists who offer personalised, hands-on support and ongoing optimisation.

Security

Enterprise-grade security should be a core part of the hosting service you choose, regardless of whether it's private or shared. However, you'll be guaranteed far greater security, with drastically reduced risk, when you work with a private hosting service.

For instance, a hosting provider should offer robust protection for your site, including:

Configured firewall options, IP access lists, and anti-phishing attack technologies
Full responsibility for rapidly patching OSes and libraries
Long-term-supported Linux distributions for maximum security.

Of course, compliance and certifications are another crucial aspect of cyber security these days. While some shared hosting providers may have the basic levels of compliance in place, most private hosting services will boast:

Compliance with ISO 27001/PCI-DSS/TIA-942
A 100% pass-rate for any data centre audits
24/7 data centre staffing with experienced engineers and specialist security teams
Document review services for your external audits
Bespoke consultancy available if you have any major certification requirements.

Performance

When taking this approach, you'll receive your own bespoke service and will be provided with a hosting environment tailored to your specific requirements.

This will optimise everything included in your hosting package, from your preferred caching, loading speeds, performance requirements, up-time, and more.

You'll also be able to set up a content delivery network (CDN) to make your website faster and more readily available to all visitors around the world.

Scalability

Private hosting gives you the capacity and flexibility to scale seamlessly anytime your website's traffic increases, or if you have peak times for traffic.

This is an intelligent way to future-proof your investment, with the confidence that your website's performance will be consistently excellent as the size of your audience increases and your site expands. This also applies to situations in which you need to scale unexpectedly due to short-term increases in demand, ensuring business continuity is always maintained on your site.

Resilience

Private hosting providers have guarantees for their resilience, and for your site's up-time, covering all possible bases. This even counts for unusual scenarios like floods or fires.

It's wise to look for a provider who offers back-up and disaster recovery services for the maximum resilience.

Back-Ups: Managed back-up services provide you with a tailored regiment, alongside rigorous testing, for guaranteed restorability.

Multi-level back-ups are taken for you, both locally and remotely, to minimise risk. You'll also be able to choose from a range of replication technology options for your load-balancing and various fail-over scenarios.

Disaster Recovery: Private hosting providers will also use disaster recovery measures, such as geographically-distributed platforms and back-up data centres, providing you with full assurance that your performance and up-time are always maintained.

Your primary hosting platform will be replicated to a disaster-recovery platform, which means that if the primary data centre is ever out of action for a prolonged period of time you can fail-over to the back-up systems.

While the more basic hosting services can take days to recover in similar situations, which could result in losses of business and even reputational damage, disaster recovery can often be done in a matter of minutes with a private hosting environment.

Support and Optimisation

Trust and confidence in your provider's ability to deliver on your requirements are a vital part of your hosting service.

It's highly beneficial to take an approach that gives you – or your agency partner – a close working relationship with your hosting provider. Availability and accountability are much greater with a private hosting service than with a shared approach.

A close working relationship provides other advantages as well. For instance, anytime you want to make upgrades to your hosting environment, they can analyse your traffic and identify the best time and date to do that with minimal disruption.

This is all part of collaborating with your agency and hosting provider, so they understand your unique business and tailor your hosting services. This is all done based on the conventions of your target audience and your specific requirements to deliver the best possible service.

In terms of support, private hosting providers will have powerful automation tools to proactively, continuously monitor your environment. That allows them to resolve the majority of issues before they're able to have an impact on your site.

This can also involve 24/7 custom alerting systems, as well as a fully customisable monitoring portal, and multi-channel systems to alert engineers rapidly in the event of any problems.

In terms of your overall service with an enterprise-grade private hosting provider, you should also expect to gain:

A fully-managed service provided by a team with decades of experience
Round-the-clock, hands-on assistance, 365 days per year
Deep technical understanding and expertise
Proactive support from dedicated engineering teams and account managers
High-level consultancy, including advice on new projects and technologies.

Sustainability

If your business has sustainability as a priority or core cultural value, then this is another reason to opt for a private hosting service. While it's not impossible to find shared hosting services with carbon-neutral data centres, it's much less common.

Sustainability is also a key focus for us here at SoBold as an agency. As a result, we've worked hard to ensure we have an environmentally-conscious, carbon-neutral service offering.

The Verdict?

Having a fully dedicated, bespoke private server is usually the preferred choice of web hosting services. This is due to the unmatched levels of security, scalability, and performance that come with private hosting providers.

Of course, it's important to note that this does also come with a higher cost than other options. However, the benefits and trust gained through their strengths in these key areas ensure strong ROI.

Not only do their flexibility and optimisation provide you with a high-performance website set up for success, but enterprise-grade security and resilience will also minimise your risk and save you significant costs in the long-term.

Would you like these insights straight to your mailbox?

SoBold is a Proud Clutch 100 Fastest-Growing Company for 2021

Clutch is a B2B review and rating platform that spans the IT, marketing, and business services industries. The site annually holds an awards cycle to celebrate the best and brightest service providers from the aforementioned sectors. SoBold are delighted to be one of the Clutch 100 fastest-growing companies for 2021!

"The Clutch 100 growth lists represent the top service providers based on revenue growth over the years," said Clutch Founder Mike Beares. "Their recognition is only possible because of their willingness to participate and their commitment to delivering the best services to their clients."

"We are delighted to be recognized as a Clutch Leader. This award highlights our consistent project success and growth as a business," said SoBold Managing Director, Will Newland.

Would you like these insights straight to your mailbox?

SoBold selected to work with Transport for London

SoBold Limited (SoBold), a leading digital and web marketing consultancy, is delighted to announce that SoBold has been selected to work with Transport for London (TfL).

SoBold Limited (SoBold), a leading digital and web marketing consultancy, is delighted to announce that SoBold has been selected to work with Transport for London (TfL) to build, manage and support a bespoke Cookie Consent Management Tool for use across TfL's portfolio of websites.

SoBold's rapid growth over the previous 12 months has seen them become a leading player in the digital and web marketing space. SoBold's core offerings are now used by over 200 customers worldwide and we anticipate this customer base to continue to grow considerably over the next 12 months and beyond.

SoBold has been an authorised Reseller of Cookiebot since the new General Data Protection Regulation (GDPR) came into place on 24 May 2018. Cookiebot's tool consists of three main features: cookie consent, cookie monitoring and cookie control and SoBold work with their clients helping them manage, build and integrate these solutions onto their websites. SoBold now manage Cookie Consent Management for clients across numerous different industries.

Transport for London has completed a formal tendering process to procure a new Cookie Consent Management Tool for their tfl.gov.uk website domains. By procuring the tool, Transport for London is best able to align their approach to cookie management with the requirements of data protection legislation. SoBold will work with Transport for London, for a minimum of 12 months with the option of extending the contract for a further 24 months.

SoBold Founder and Managing Director Will Newland, commented:

"We are absolutely delighted to work with Transport for London. This gives SoBold the opportunity to work with a large, well known, corporation and we have no doubt we can play a big part in ensuring Transport for London's customers can feel safe and confident when sharing information about themselves on the TfL website. This further strengthens SoBold's position as a leading player in the Cookie Consent Management space."

SoBold Lead Developer Sam Phillips, commented:

"This is a fantastic opportunity for SoBold to showcase our experience in the delivery of bespoke Cookie Consent Management solutions across a portfolio of websites with millions of visitors per month. The contract with TfL cements our position as a leading CookieBot reseller in the United Kingdom."

Would you like these insights straight to your mailbox?