Did you know you can use a block-based approach with your WordPress website to gain more value from the platform, with significant advantages in flexibility, scalability, and ease-of-use?
In this article, we'll explain what blocks are, how they work, and how you can use them to build enterprise-grade websites quickly and efficiently, without compromising on quality.
—
WordPress is the most popular content management system (CMS) in the world right now, and it has been for a while. Unfortunately, though, some people still have the wrong impression that it is a CMS that can only be used to build more simple websites that do not have any real complex functionality or integrations, but this couldn't be further from the truth.
In fact, WordPress is far more intuitive and robust than most realise. The fact that around 45% of all websites online today are built on the platform goes a long way to prove that. WordPress also provides more scalable, agile capabilities that are perfectly suited to building enterprise-grade websites if leveraged in the right way.
There are intelligent – but still very straightforward – ways to use WordPress that can unlock more value from the CMS. If done with the right guidance, this can make WordPress a far better option than the more traditional, rigid approach of building websites.
This is an opportunity most large businesses are currently missing out on. In this article, we'll show you how using blocks is a more flexible approach that can provide you with a wealth of benefits.
Understanding How Using Blocks In Your Website Backend works
In 2018, WordPress released a new block-based design and editing user interface (UI), known as Gutenberg. Instead of the typical page creation and editing functionality of a CMS, where you'd input text and images into a rich text editor, you can now build your site by creating and using a set of components. Components are blocks of code which have pre-defined style and input types.
Each component is named, to denote what it is from the perspective of the front-end of your site on the web page.
Note: Some agencies only provide a list of block names, but here at SoBold we also provide screenshots of each block so you can see it first. This makes the process much easier and saves you a great deal of time.
Each part of each web page is made up of these components, as pictured below.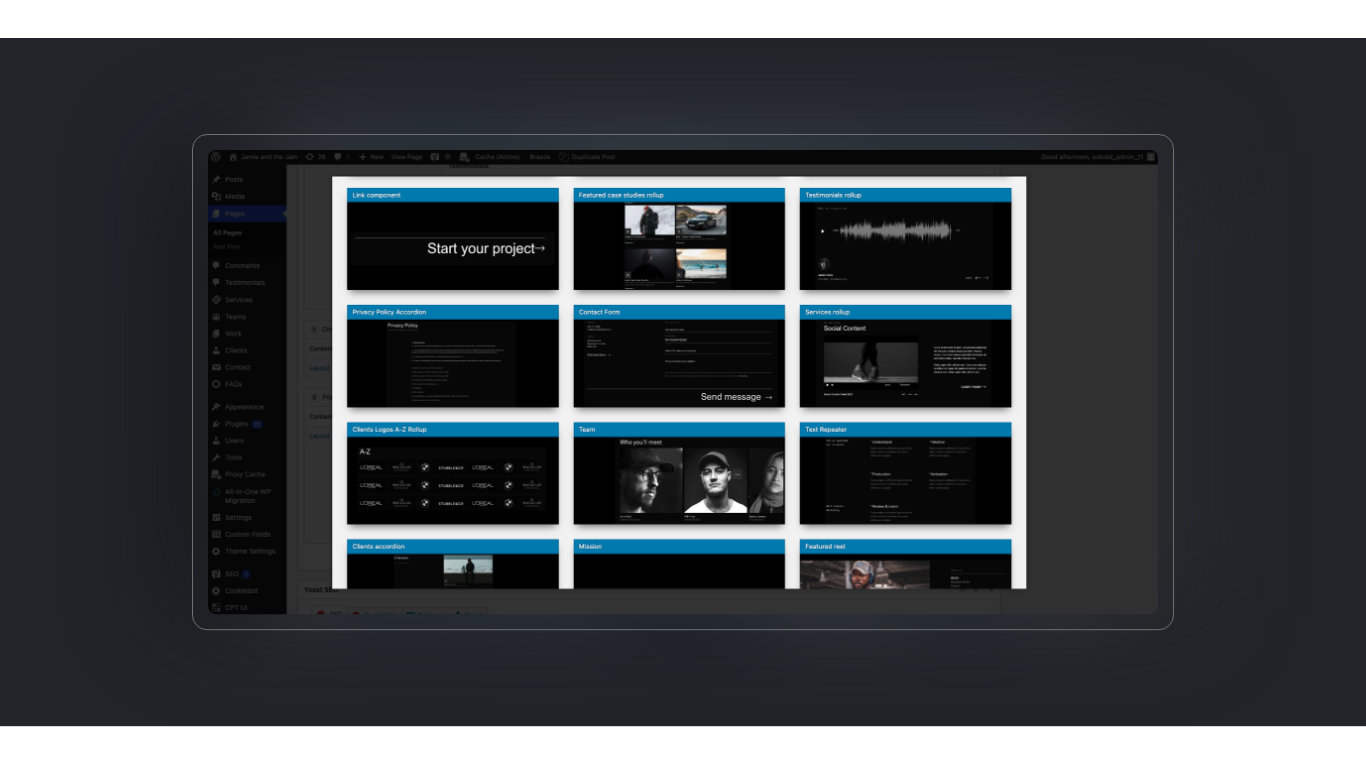 However, taking a bespoke approach, you can design and construct unique blocks that are entirely your own. Blocks or components can be built for you by your agency so they're bespoke to you, your style guidelines, your design preferences, and so on. And, when building your site, you can go into your pre-built components and edit things, like changing background colours, adding images, adding text, and so on.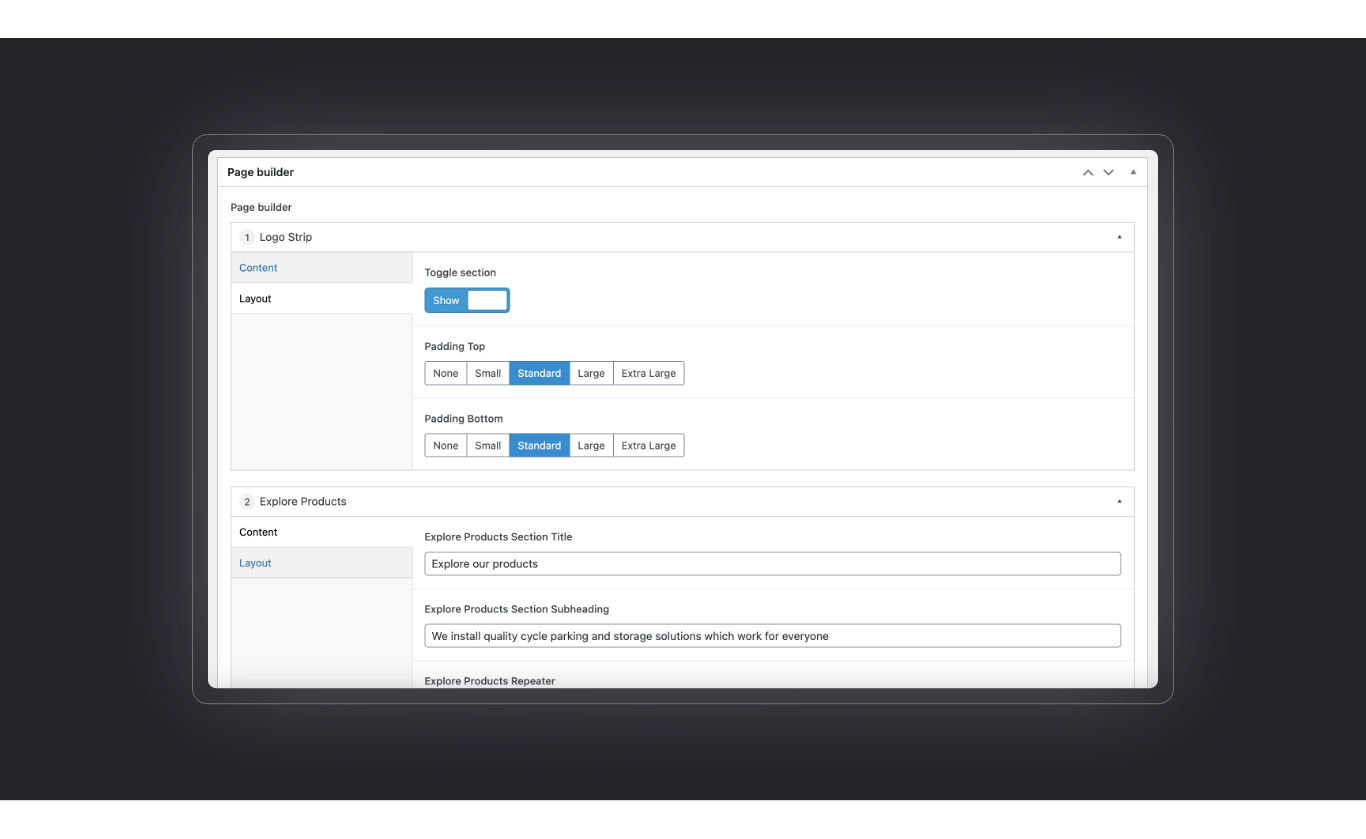 This can be set up for you by your agency, so you have everything you need to create, edit, and publish new pages with your pre-built blocks. Anytime you need to create a new page, you just have to pick the appropriate components and place them in the correct position to quickly and easily build the page.
You can see a great real-world example of an intuitive, bespoke enterprise website built using this block-based design approach here.
The Business Benefits of Using a Component-Based Approach
Scalability
Scalability is one of the greatest benefits of using these blocks, especially if you are wanting to continue to build out your sitemap and build out the content.
This scalability is where WordPress really shines, enabling simple, rapid, virtually limitless scaling of your website with a high level of accuracy. This is a cost-effective way of growing without having to compromise on the quality of your design.
Flexibility
Blocks provide you with a great deal of flexibility in building, editing, and structuring of pages as well. The ability to customise all your components, along with the intuitive drag and drop functionality, allows you to effortlessly adapt and expand on your website.
Efficiency
Building components, and repurposing them repeatedly across your website, is a highly efficient way of growing your site. It also makes it very difficult to make mistakes or take a wrong turn.
This efficiency of reusing blocks across your website will free up time for you to develop innovative new features, or focus on improving the service and experience you provide your clients.
Ease-of-Use
If you have non-technical members of your team who would benefit from using WordPress, blocks will almost certainly improve the usability of the CMS for those people.
An easier design and editing function helps more members of your team create web pages within clear, pre-set brand guidelines. That's another aspect that frees up more time and resources to focus on higher value tasks.
If you're working with a design and development agency, this also makes it much easier for them to be able to train you and enable you to use the platform to manage your site.
Faster Time-to-Market
All this efficiency and ease-of-use will enable you to achieve a faster time-to-market for new web pages, extensions of your site, or even entirely new websites.
That can, in turn, create competitive advantages for your business, particularly if your competitors are working with CMSs that are slower and harder to use.
Whether it's you or your agency handling this, you can create and publish new web pages quicker than you could with any other approach.
Lower Costs and TCO
As a result of all of the above, you can reduce costs on development and design, and achieve a much better total cost of ownership (TCO) with the WordPress platform.
Something that takes an inexperienced agency days to complete with the classic design approach can be done in hours using bespoke blocks. This drastically reduces development costs and gives you a lower TCO in the long-term.
The Importance of Finding a Capable Agency Partner
As mentioned earlier, bespoke blocks provide you with a proven way to unlock more potential with WordPress and gain greater value from the platform. However, in order to do that, it's important to find the right agency partner. You'll need an agency with enterprise-grade expertise and a certain level of skill to guide and support you through this process.
Taking this approach to building WordPress websites is nothing new, but the real value here comes in creating blocks that are completely unique and specific to you, then enabling your team to use those to scale your site.
Many WordPress agencies may lean on the generic block editor. But to get this right, you should push beyond that to find a partner who can educate you on the opportunities of using a bespoke design system to build a high-performance website that's effortless to manage and edit.
A great partner will also facilitate this for you in a way that ensures you have control, removing the risk of any users making mistakes with the flexibility of this system. You won't need to worry about the integrity or quality of your site being spoiled because all your components will be built specifically to prevent that.
You'll gain tremendous value from receiving an intuitive, quality website that you can easily grow at will, but one that's also managed and supported by an experienced partner. Sticking to these blocks helps you stay within brand guidelines, adhere to best practices, and keep your site consistent.
You then have the choice to manage, edit, and expand your site yourself, or rely on your partner to do it for you quicker, easier, and more efficiently than they would with a traditional CMS.
Making the Most of Your WordPress Platform
Modern businesses today require a powerful, sophisticated CMS that can deliver great websites at scale with enterprise-grade performance. WordPress is a platform that's built to provide all those qualities and more. Embracing this block-based approach is the most effective and efficient way to achieve that.
With a skilled agency partner to help you maximise the value your business gains from the platform, you'll quickly realise just how well WordPress can deliver agile, intuitive websites.
If you're in the process of evaluating platforms to deliver a bespoke web development project, check our comprehensive guide to assessing and selecting the right CMS here
Would you like these insights straight to your mailbox?
SoBold obtain Skilled Worker Sponsorship Licence

SoBold are delighted to announce that we have obtained a sponsor licence in order to sponsor international skilled workers to come and work at SoBold.

SoBold have always put heavy emphasis on hiring the best global talent for our needs, and we have strengthened our ability to do this by obtaining a Skilled Worker Sponsorship Licence.

With all sponsorship licences that the Home Offices grants they need to be reassured that the sponsors can live up to the "significant trust" that the department places in them. The Home Office further made checks that SoBold is a "honest, dependable and reliable" workplace, and capable of meeting the responsibilities that it expects from sponsors.

Since being granted our Skiller Worker Licence, we have been fortunate enough to put it to use to hire two new team members.

Anna de Moraes, joined SoBold, from Portuguese company, SpringParrot. Anna had been able to work remotely, and was living and working from the UK, when she got in touch with SoBold. Anna, who is natively from Brazil, said of the process:

"​The steps were pretty clear and the whole process was quite simple. I've had friends waiting years for their visas to be approved while we were able to complete everything in a short period of time! I was already excited to start and, in a blink of an eye, I was finally part of the SoBold team!"

More recently, SoBold hired Santosh Gajera as a Back End WordPress Developer. Santosh has relocated from India in order to provide his services to SoBold. When asked about the process behind him getting his Skilled Worker VISA granted, Santosh said:

"To keep my IT career moving forward, I needed sponsorship from an organisation that sponsored my visa. SoBold has been an invaluable help in obtaining my Tier-2 (Skilled worker) visa. I am very thankful to their hard work and professionalism. My documents were handled very scrupulously by them, and they provided full support throughout the whole application process . I got my visa approved in two days, which is amazing, and they handled everything for me."

SoBold worked with all-in-one digital platform, Nation Better in order to achieve our sponsorship licence and the process was streamlined, affordable and transparent.

SoBold already have a diverse talent pool, with staff from all over Europe, and with the help of Nation Better, we have been able to improve the way in which we hire international talent and open up opportunities further afield. We look forward to continue growing our team with exceptional overseas talent and have access to a wider talent pool.

SoBold Managing Director, Will Newland said:

We are absolutely delighted to welcome both Anna and Santosh to the SoBold team. Without our Sponsorship Licence we would be missing out on a large pool of talent that is the future of our business. We very much look forward to continuing to use our Sponsorship Licence to our advantage and giving skilled employees the opportunity to come and work here at SoBold.

For more information on what current vacancies we have, please visit our website careers page.

Would you like these insights straight to your mailbox?

Celebrating 3 years with Leonardo Esposito

A fresh-faced Leo joined SoBold in August 2019, with a big booming smile and speaking in broken English. It was immediately clear how driven he was to learn and pick up new skills and it was a no-brainer to offer him a job to join our development team.

For much of his first year at SoBold, Leo was glued to Google Translate to try and properly understand the tasks he had been set, but each and every time the output of his work would be the same, outstanding.

As Leo's English picked up, as did his confidence and skill-set and he made it clear that he wanted to focus on Back-End Development and he really wanted to take SoBold forward. Leo championed innovation in our development approach and much of the workflow we do today has been driven by Leo's desire to set the highest of standards.

He is a key figure at SoBold and we are very fortunate to have him.

We caught up with Leo to find out more about what he get's up to in his day-to-day life!

At what point in your life did you decide to become a developer?

During middle school, I tried to learn how to make games, which led me to development. I started exploring different languages and realized I really liked learning the syntax of as many languages as I could. Eventually, I got into web development, and since then I have tried to expand my knowledge of web development languages, trying out new frameworks, and both front and back end sides.

Describe your typical day

As of now I'm trying out double gym days, which means an early wake up (5.30am), gym at 6am, and finishing at around 8am. Then I go to work, have my day, and when I finish I go home and back to the gym. When I get back home it's circa 8.30pm, so I have dinner, watch something on Netflix (not too much otherwise I end up snacking), then go to my room, and if there's time and I'm not too tired I play piano, otherwise I go to bed ready to do it all again.

What's your favourite project to date

Favourite project to date is Rede partners

Any advice for junior developers?

Never stop learning, be curious, and be always ready to challenge yourself, and question what you do. Change your way of doing things if someone else out there is doing it better.

If you had to change careers what would you do instead?

Theoretical Physicist or Volleyball coach

What was your most recent challenge and how did you overcome It?

Hit a plateau in terms of motivation, but managed to overcome it by getting less on my plate, and focusing on meaning, eventually, it became better.

What's your favourite thing to do outside of work?

Workout, play music (piano, guitar), play video games (fav ones are Skyrim, Horizon Forbidden West and Fallout)

How do you think the designer/developer relationship could improve?

The main thing is communication and chemistry, once those are there the relationship improves by itself.

Would you like these insights straight to your mailbox?

Infinite Scroll vs Pagination. Which is better for you?

We recently had a friendly debate in our office of which we thought was a better experience but putting personal bias aside there is no right or wrong answer. It all depends on the type of service you are providing.

Content is what defines your website and the reason why your audience will return again and again. Choosing the right browsing experience based on your unique content will enrich the experience rather than leave your audience feeling confused and frustrated.

What is infinite scrolling?

I think it's fair to say at some point we have all fallen down the rabbit hole of endless scrolling. In short infinite scrolling is a technique used to fetch a continuous source of information as a user reaches the bottom of a page. Pinterest and Unsplash are great examples of the use of dynamic content.

What is pagination?

Pagination is the sequence of numbers used up to divide pages of content that a user can control, you'll see this commonly used on large e-commerce sites or information websites that update content regularly.

The pros and cons of:

Infinite scrolling

Pros:

Continually scrolling as we know is addictive, a pro…debatable but it does have a better usability experience than clicking

There is a better chance of user engagement

Users have the opportunity to discover new content with little to no thinking

Thanks to social media continuously scrolling on mobile has become the prefered way to interact with content

Cons:

There is no way for the user to reference or bookmark content of interest
If done incorrectly it can have an impact on site performance as the page needs to load infinite content as the user scrolls
Your user will never reach the footer which may house important information for them

Pagination

Pros:

Your pages will have a good conversion rate because as people are searching it will show in a specific list of items
It will give your users a scene of control and clarify how long it will take them to find what they are looking for.
A returning user will be able to identify quickly where the content is

Cons:

It obstructs the user experience which will lead to lower engagement rates
If not implemented properly can cause confusion
So which one is better for you? The bottom line is no ideal or stronger one, it all comes down to your UX and content requirements. The best thing to do is to analyse web and user goals and make decisions based on them.

Would you like these insights straight to your mailbox?

Is WordPress Secure Enough for Large Businesses?

Summary

Despite being the most popular content management system in the world, many large businesses and organisations in strictly regulated industries are still asking, "Is WordPress secure enough for us?"

This article will give you a detailed explanation of how WordPress can provide enterprise-grade security, to help you make your own decision about whether it's secure enough for your own business. We'll also share some helpful tips to enhance the platform's security and reduce its risks even further.

As technology has become more pervasive in our daily lives, cyber security concerns have intensified, especially in the workplace. Each year, we read about more high-profile cases of global brands becoming victims of malicious cyber attacks, most often with sensitive data being the real target.

As a business, you should be increasingly careful and vigilant about the technology solutions you deploy today. This is even more important for large businesses and organisations in industries with strict regulations, where the consequences of security issues can be catastrophic.

When you're choosing a content management system (CMS) to build critical digital assets like your website, security must therefore be a top priority.

Despite being the most popular CMSs in the world today – powering almost 45% of the world's websites – WordPress is still seen by some as the platform for smaller organisations. You'd think its popularity alone would be sufficient evidence that WordPress is secure, especially as a large fraction of that user base includes enterprises across both the public and private sectors. However, when it comes to WordPress security, there are still some question marks.

So, is WordPress secure?

Yes, absolutely.

But there are certain factors and potential pitfalls you should be aware of if you're considering WordPress as your CMS of choice.

Understanding Security in a CMS

As business challenges with cyber security and data protection continue to grow, selecting a platform that offers robust security is crucial. But how does that work, exactly?

Ultimately, a CMS like WordPress is just a piece of software, and all software can be vulnerable to security issues in a variety of ways.

The most obvious of these is a cyber security attack, either by hackers, a virus, or malicious software (malware). Any CMS used in a business environment needs to be built to withstand these attacks on a daily basis, and WordPress is definitely capable of doing so.

Another significant risk is when software has accidental weaknesses, issues, or vulnerabilities – known as bugs – built into its code. Bugs are common in software, and they can manifest as anything from a box appearing in the wrong place on your website to a platform vulnerability that leaks mission-critical data to cyber criminals.

Bugs aren't difficult to fix, and we'll explain later in this article why WordPress users can be confident that these kinds of risks are minimal with the platform.

However, when it comes to a CMS's security, it's important to understand the following point:

The biggest security risks, and the greatest opportunities for cyber criminals, are unsafe user behaviour, lack of best practices, insufficient maintenance, and poorly built sites. Not the platform itself.

Your behaviour, and the behaviour of your end-users, is an area that can be exploited or cause problems if you don't prioritise security. That's why it's necessary to take a proactive, rather than reactive, approach to protecting your data. The rest of this article will help you do that, and remove any concerns you still have about WordPress security.

Is WordPress Secure?

The misconception that WordPress isn't secure enough for large businesses still lingers, but why? Well, the main reason is because the platform is free-to-use, and so it was initially most popular among B2C blogs and smaller independent businesses.

Today, however, this couldn't be further from the truth. Industry-leading enterprises such as private equity advisory firm Rede Partners LLP, global investment firm Coller Capital, and global research and advisory leader Forrester use WordPress for their CMS, just to name a few. This goes a long way to proving the apprehension towards WordPress security is unnecessary.

So, let's explore the WordPress platform in more detail to understand why these global enterprises have full confidence in the security of their data, as well as the data of their clients and partners.

WordPress is already a secure, stable platform out-of-the-box.. You can rest assured its core code is highly secure, because it's overseen by a team of security experts who thoroughly test and quality-check it on a continual basis. They regularly release updates and reinforce any potential weaknesses before they're exploited to protect you against any new-found threats.

A team of security analysts study the ever-changing cyber security landscape and respond to it with speed and precision.

While WordPress may be seen by some as a CMS for small businesses, the speed at which security updates are implemented is arguably the best in the world when compared to other platforms.

WordPress is also open-source software, which means all the code it's built on is available to the public. Anyone from outside the WordPress team can view it, download it, and make adjustments to it. Users often suggest their own changes and updates to the code by submitting them to the WordPress moderator team for approval. If improvements are made to the WordPress code, these updates will be released to the global user base.

These people are part of a global community of dedicated, passionate users who work hard to ensure the platform is always developing into the best version of itself possible. Anything WordPress's own team misses, the developer community will catch. This means users are often fixing bugs and shutting down potential opportunities for cyber criminals, keeping the platform safe for everyone else.

WordPress Security Vulnerabilities

While WordPress does have the support of some of the brightest developers in the world, who keep it as secure as possible, they can't take care of everything for you. As mentioned earlier, your biggest security risks will probably lie within your own business, regardless of what CMS you're using.

Additional security vulnerabilities can arise in certain scenarios, often caused by ignoring best practices or failing to take responsibility for simple maintenance of the platform.

Web Hosting

Your hosting environment is an important factor that can influence how secure and protected your data will be. Your WordPress websites will be hosted in a server that stores your files and data in a data centre.

WordPress, like any platform, should be hosted in a secure environment, with an experienced provider who prioritises security as part of their services. This should include putting proactive security measures in place for scenarios like unplanned down-time or even natural disasters.

Secure hosting should also involve automated monitoring for malicious activity and vulnerabilities in your servers and software, as well as incident response.

Before choosing your hosting service, be sure to carry out some due diligence and look into the security best practices of your host. In many cases, it's wise to work with an agency partner who will help you with this, but more on that later.

Plugins

While the WordPress community is one of the platform's greatest strengths, interacting with unsafe additions to the software can also be its downfall for some businesses. It's important to be cautious of the constant stream of new features, updates, and plugins being made available, because some of them could create issues for you.

To avoid these problems, you shouldn't download plugins unless they come from recognised, credible sources. Furthermore, you should always ensure all your plugins are correctly tested, maintained, and updated.

We appreciate this may sound complicated. For that reason, you should entrust this responsibility to a partner. When using WordPress to build and manage websites, a good agency should help you ensure everything is secure and up-to-date.

Software Updates

When you're running a website or application on WordPress, you'll regularly receive software updates from the platform. Any time an update comes through, it's because certain bugs have been fixed or some improvements have been made.

It's crucial that you keep up with WordPress updates because they're there to keep your site secure. By leaving your site running on outdated versions, you're at risk of a known issue being exploited by cyber attacks. Again, this should be taken care of by your agency partner so you don't need to worry about keeping your web platform up-to-date.

Tips to Strengthen WordPress Security

If you still have doubts, there are some simple steps you can take to further strengthen the security of the WordPress CMS. Some of these more general tips can also be applied to most website platforms and other software software products in general as well.

Use a managed hosting service that offers enterprise-grade security.

You wouldn't rent an office in a building that leaves its doors unlocked at night. Why would you place your sensitive data in a data centre that isn't fully secure?

Some things you should consider non-negotiable for a web hosting provider to offer include:

24/7 support
Back-up and disaster recovery
Fully-managed service
Automated monitoring and alerts
99.99% up-time
100% pass-rate for data centre audits.

Put back-up and disaster recovery services in place to ensure you're protected from all potential risks.

To build on the above point, ensure your hosting service has measures in place for back-up and disaster recovery. This fail-safe measure will give you a way to save and recover all your data in the event of any losses.

Do not use, or allow your agency to use, any plugins from unrecognised sources.

As mentioned earlier, only use plugins from sources you trust. You should also keep all plugins and additions to the platform up-to-date, and make sure they're rigorously tested – or, rather, make sure you can rely on your agency partner to do this for you behind the scenes.

Use plugins alongside security-specific enhancements.

You can further bolster the security of the WordPress platform by leveraging security-specific plugins such as WordFence, Sucuri, and Defender Pro. These can inform you of potential vulnerabilities or incidents so you can respond quickly before they have an impact on your business.

Don't use tools that enable direct access to your site database from within the dashboard.

Some digital tools or extensions give direct access to your site's database or files from within the dashboard, to make managing your website easier. This is something to avoid, because they're often a major security risk.

Enable SSL

Enabling SSL (Secure Sockets Layer) introduces a protocol which encrypts the transfer of data between your website and your users' browsers. This makes it more difficult for cyber criminals to steal information and data online.

Encourage your users to follow security best practices.

You can put all the security measures and data protection possible in place, but they could all be for nothing if a weak password or bad behaviour compromises your website.

Some security best practices every business can easily implement include making strong passwords compulsory among all users and introducing additional measures like two-factor authentication.

Rely on an Expert to Minimise Your Security Risks

As touched on throughout this article, another factor which will determine how secure your WordPress platform is will be which agency you decide to work with.

While deciding whether to invest in WordPress is a big decision, don't underestimate the importance of finding the right agency partner to support you with your CMS, especially when it comes to WordPress security.

Ultimately, you should understand that:

WordPress by itself, out-of-the-box, is secure enough for most businesses to use.
WordPress in the hands of an inexperienced or negligent agency will create significant security risks.
WordPress is the hands of a dedicated, specialist partner is a platform you can trust and rely on without any concerns.

Your data will be fully protected if you work with an agency who takes security seriously and prioritises it at the core of every development task they deliver for you.

That means they should be capable of handling secure architecture, testing, monitoring, updates, and ongoing support for you as part of your service. You should always take the time and care to find a specialist agency partner who has a proven track record of building robust, reliable sites, to ensure you're minimising your risk.

WordPress is a Suitable Platform for the Enterprise

Cyber security and data protection are critical for businesses of all sizes, across all industries. But it can't be denied that large businesses often face more severe consequences by falling victim to a cyber attack or data breach.

Choosing a platform that you have total confidence in is a necessary factor in the process of evaluating your options for a CMS.

When you have your own role and responsibilities to focus on, the last thing you want is to be constantly worrying about the security of your site. Following the advice and best practices listed in this article will provide you with a highly resilient WordPress platform with enterprise-grade security. That will allow you to spend more of your time creating an outstanding website that differentiates you from your competitors and drives business growth.

If you need more help understanding and evaluating platforms to deliver a web design and development project, read our comprehensive guide to selecting the right solution here.

Would you like these insights straight to your mailbox?

Demystifying User Experience (UX) Design

As technology continues to evolve and advance rapidly, more of our daily lives are taking place in a digital-first context. When marketing your products and services, this means:

Your target audience now has a shorter attention span, and less patience when browsing websites and services online.
Your target audience also has more choice of options than ever before when choosing who to buy from.

Modern users demand the same speed and convenience they get from the industry-leading sites and apps they use every day. That means you only have a matter of seconds to make a positive, memorable connection with your visitors.

UX design, therefore, serves as a critical phase within the end-to-end process of web design. This is essentially the practice of creating a website that allows your visitors to complete a process, take an action, or fulfill their need in as few steps or clicks as possible.

Despite its ever-increasing importance, UX design is a process that many businesses, and even many agencies, still struggle to get right.

To ease this challenge, and help you ensure your own website's UX is designed effectively, we've written this article to outline the process in detail. We'll also provide advice and tips to help you ensure your website can provide your target audience with an experience that drives them towards your desired outcomes.

What is UX Design?

The aim of UX design is to make it quick, easy, and convenient for your visitors to complete a task or process, or follow a call-to-action. Your UX involves everything from functionality, navigation, accessibility, layout, structure, and even the site's content itself.

Designing your website in a way that's intuitive and easy-to-use will provide your visitors with a satisfying UX. It's important to note here that UX design shouldn't be confused or bundled up with user interface (UI) design. UI design is its own separate phase of the process that comes slightly later. 

Understanding the Design Process as a Whole

Research and Planning

Earlier in the overall design process, before you approach the UX, you should've gone through a thorough research and planning phase with your design agency.  

This is important in ensuring that every decision you make towards your UX and UI will produce a more effective website capable of meeting your business goals and your audience's needs.

Working alongside your agency, you'll use this research to define the full scope of your website and all its requirements. This will include the creation of user personas and user journeys. These will help you determine the most simple and efficient flow for your visitors to take through your website to each call-to-action, and this is how your UX is created. 

This research will guide both your UX design and UI design processes.

Related reading: Understanding the Important Role of Research and Planning When Designing a New Website.

Visual Exploration

Your agency partner should then produce a set of mood boards that you'll use to create the aesthetic style of your site in line with your brand. These mood boards help you visualise the way your website will look and feel when built. 

This is a precursor to your UI design, and it's done before the UX phase to ensure the overall style is correct before any more design work is completed.

This is another collaborative process, where your agency should advise you with their expertise and experience from delivering successful website projects in the past.

Related reading: What is Visual Exploration in the Process of Web Design?

The UX Process

Information Architecture

The information architecture of your website is devised by building a sitemap, which is a map of all the necessary pages across your entire website. You'll likely have an existing one from your current site, but this will probably need updating based on all the new research and strategic planning you've done.

From the sitemap, you'll have a list of all the pages and content required to populate your site. Your agency will then build out a content base framework, noting any content that you need support in developing.

The users' navigation through the site needs to be tailored to the objectives you've set and the research findings from earlier. It also needs to be built in a way that allows for flexibility and scalability later, as your requirements evolve and your business grows.

High-Fidelity Wireframes

Wireframes are used to design the user experience of your website. This is essentially like creating a blueprint of your website's pages prior to beginning the actual design work, detailing the site's flow and the users' journey through it.

These wireframes are used to determine how the user can reach their desired outcome, or reach your desired call-to-action, in as few clicks or steps as possible. Remember, the purpose of UX design is to optimise that journey.

Here at SoBold, we use high-fidelity wireframes that provide a clear, detailed representation of the users' flow to all calls-to-action. This is directed and influenced by the things we learned in the research and planning phase.

These wireframes are typically built on a standard desktop size, but they can be done on a mobile device screen size if you want your site to be designed mobile-first.

Wireframes are used to create the UX so you don't get distracted by the visual design when evaluating the user journeys. This allows you to focus completely on the flow and the experience the user will have when visiting your site, without worrying about the aesthetic elements. It proves to be a much more effective approach towards creating an experience that will satisfy your visitors and help you achieve your objectives.

Again, this will be a collaborative process in which you'll work closely with your agency, providing feedback on the wireframes to ensure they align with your requirements.

Once the mood boards and the wireframes are approved, all that's left to do is apply the design to the wireframes to bring your website's design to life. This makes the UI design process very quick and easy from here.

A Quick Word on Accessibility

Accessibility is a crucial aspect of any user experience.

Accessibility refers to how easy and accessible technology is for all users, regardless of their physical ability, location, personal background, or any other factors. While accessibility is primarily a concern for the UI design team, it's also important in optimising your UX as well. After all, a website that isn't accessible simply cannot be considered to have a good UX.

If accessibility isn't included as a core component of your web design process, you should raise this as a concern with your agency.

Here at SoBold, accessibility is a key part of all our design processes, as we believe that all technology must be fully inclusive and equally available to everyone.

Related reading: You can learn all about what it takes to deliver good usability through your website in our related article here.

Finding the Optimum Balance

As touched on earlier, your target audience will be visiting your site with a goal in mind, and the UX is what enables them to achieve that easily.

Of course, you also have business objectives to achieve through your website, which must also be supported by UX design. That creates the need for balance between a UX that serves your visitors and supports your business strategy simultaneously. Your design should also play the important role of directing visitors to the calls-to-action that you want them to engage with.

Finding this balance is a challenge, and one that could have a negative impact if you get it wrong. This is where the guidance and expertise of a specialist agency partner becomes so important. All design is collaborative and iterative, and UX design is all about compromising to find the right balance.

The Business Benefits of Great UX

Finding a design agency you can trust, and investing the time to work with them to craft a truly outstanding user experience, will prove well worth it in the long-run.

UX design is complex, but the right agency can guide you by demystifying the process and helping you make the right decisions at every step. Finding that aforementioned balance between your strategic objectives and your target audience's best interests can have a transformational impact on the performance of your website.

Providing your visitors with a great UX can deliver a wealth of other benefits as well, not only to the performance of your website but to your wider business too. For instance, a study by

Forrester Research found that a well-designed UX has the power to raise conversion rates for your website by an incredible 400%. 

Some of these additional benefits include:

Boost SEO and brand awareness
Improve audience engagement
Reduce bounce rates
Increase conversions
Drive more sales through your website
Accelerate business growth
Improve customer retention and loyalty
Gain competitive advantages.

Your UX isn't Complete Without User Interface Design

The key thing to remember is that good UX design is really just helping your website visitors travel from their entry point to wherever they need to get to as easily and efficiently as possible.

In the UX phase of your project, you need to consider who the user is, what they're aiming to do, and then determine how to enable them to do that with an intuitive design.

Once your UX design begins to come together, and you're satisfied with everything, the next step will be for your agency partner to begin to design your user interface.

While UX and UI are separate, they're also intrinsically linked. They need to work together seamlessly and complement each other in order for your website to be successful.

In our next article, we'll walk you through the topic of UI and help you ensure your user experience is brought to life with an effective visual design.

If you'd like to take a step back and learn more about the overall process of web design, read our related article here.

Would you like these insights straight to your mailbox?