SEO London are experts in Search Engine Optimisation and have been one of the leading players in London for over 10 years.
SEO London wanted to create a brand which highlighted their market position as they moved away from being an individual freelancer.
The chosen Content Management System was WordPress and they wanted this for it's ease of use and ability to optimise it.
One of the biggest challenges with this project was the vast amount of content that SEO London wanted to display throughout the website.
We took a two fold approach here. The first task was to come up with a new brand for SEO.London that presented them as an established brand in a very competitive landscape.
They wanted a logo combined with a logomark and logotype and we wanted to keep this clean and simple. 
We used simple sans serif fonts for the logotype to achieve a clean, friendly and minimalist look. Based on the first round of feedback we focussed on including abstract logomarks and brought the logo to life in a moodboard displaying colour schemes and digital and print elements to show the brand in its new market positioning. 
Once the brand and moodboard was signed off, we got to work on High-Fidelity wireframes to show the user flow and how we would approach content-dense areas of the website. 
On sign off of the wireframes we built out the brand, focussing on the homepage in the first instance before implementing the new designs across all pages, on Desktop and Mobile.
Target Audience
Small to Medium sized businesses
Goals
Professional looking site Site / built with Core Web Vitals at the forefront / Use of Advanced Custom Fields
What we did
Website Design and Development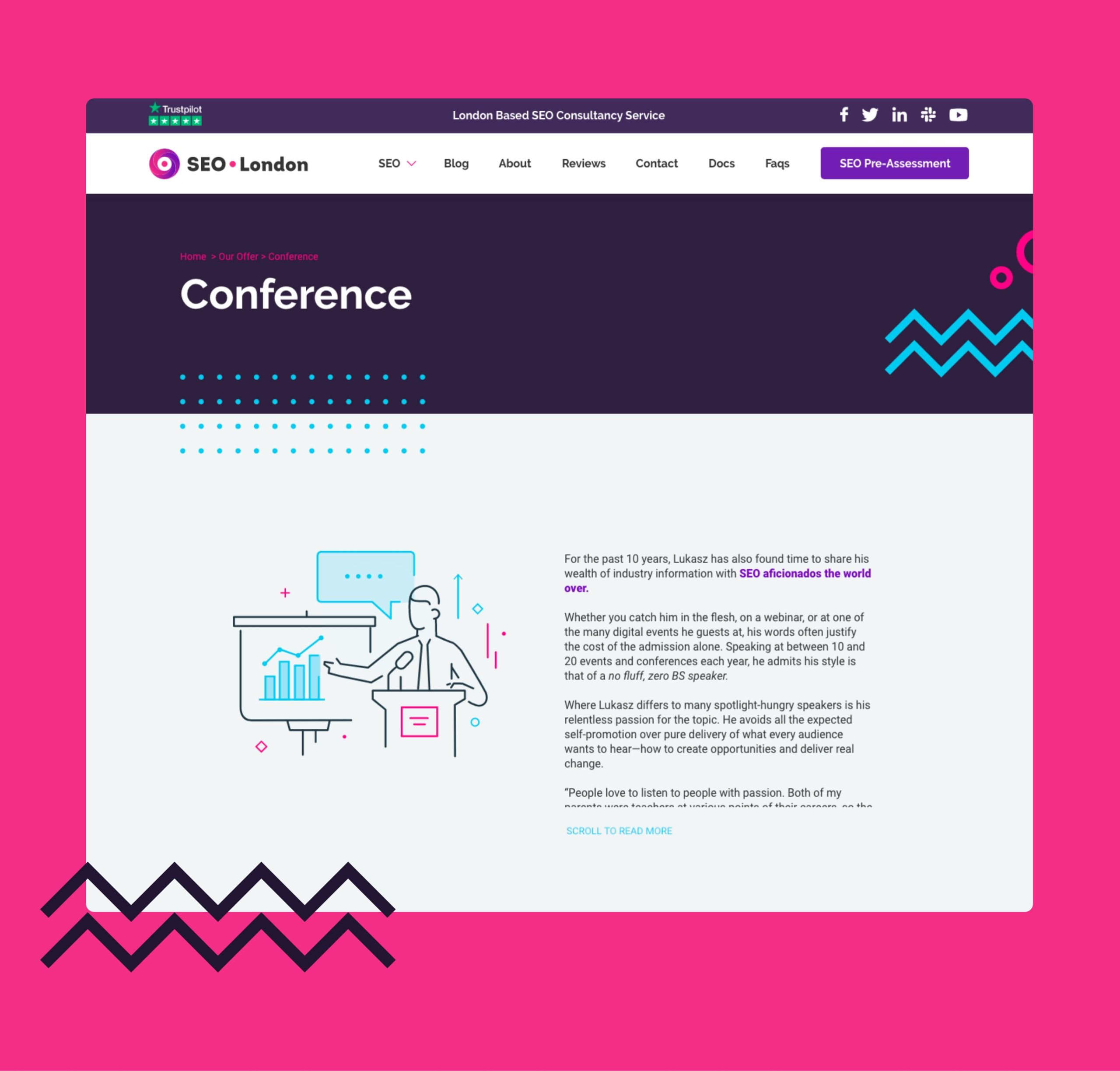 Accessibility score on Core Web Vitals
Grade for site speed on GTMetrix
*Results taken on launch of the website
Visual Identity and Creative Direction
A clean and modern logo which includes a logomark and logotype to better position SEO.London as a leading SEO Agency in London.
See what SEO.London have to say!
We are very pleased with SoBold's work on our new website. Will and his team did an excellent job of creating a site that is both visually appealing and easy to navigate. They took the time to really understand SEO.London and what we were looking for in a website. They then created a custom website, colour palette, defined typography and more. Everything that met all of our and our future website visitors needs. I can say that at the moment SEO.London has one of the best, if not the best, website in the industry. The overall feeling of the site is much more professional and we are seeing a significant increase in web traffic and conversions. Thanks to SoBold, we are able to provide our customers with a better online experience, which is translating into sales. We would highly recommend their services to any business looking for a top-notch web design team.