If you've never been to a conference of any type before, you possibly think you already know the important areas of your profession and can find out any developments from your colleagues or the internet. At least that's what I thought prior to attending Pixel Pioneers 2022.
Which option sounds more appealing to you? Pick up extra skills on occasion, or go to a conference and absorb a mega-dose of industry knowledge, make connections and enjoy exploring fresh surroundings? Luckily at SoBold we have the opportunity to do both.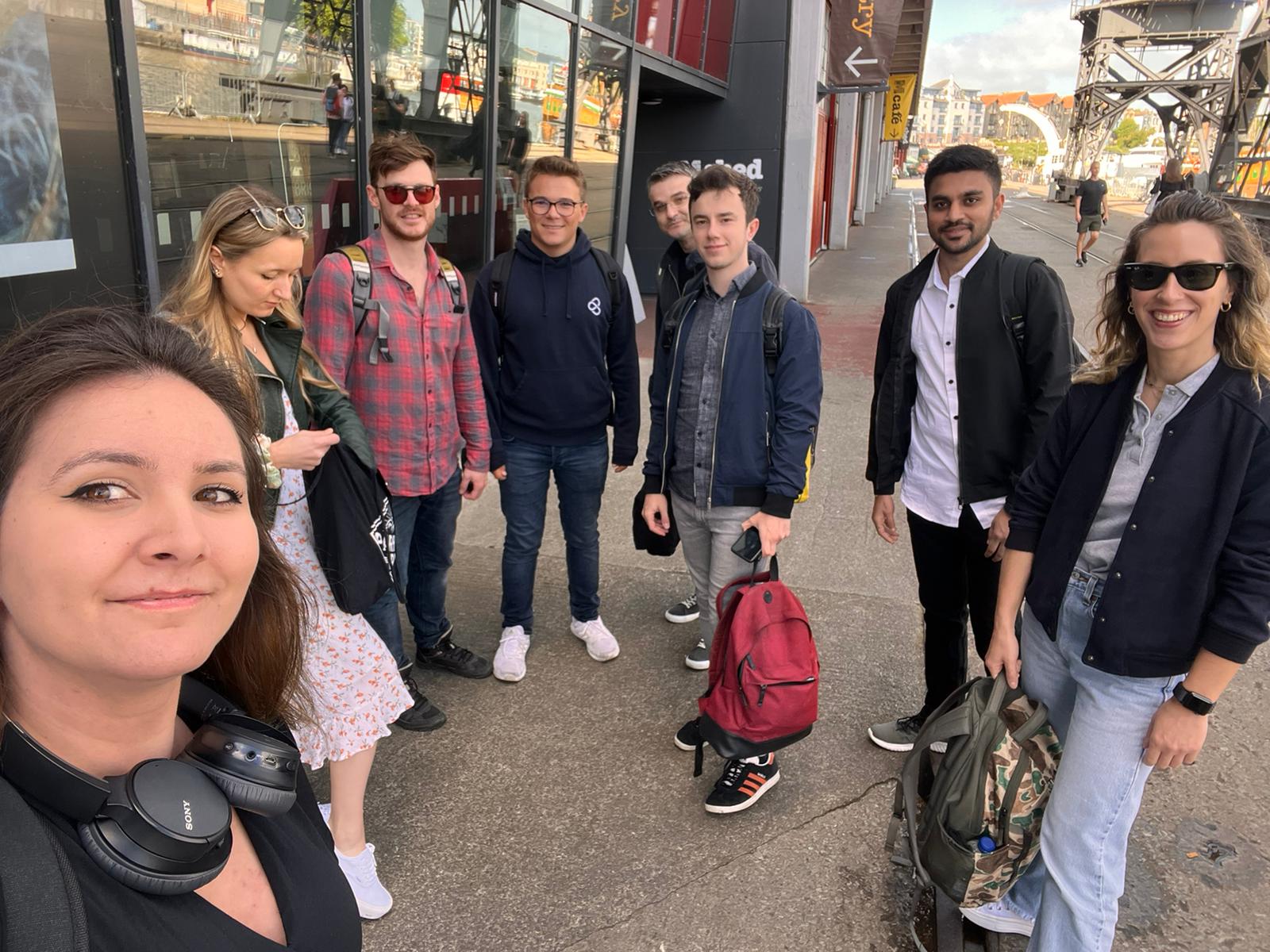 The conference covered both ends of the telescope – from broad topics such as energy consumption, to a fifty minute talk about the brief three milliseconds your screen goes blank in between webpage loads. How the visually impaired experience the internet, to technical developments in styling / fonts.
My personal hero was Chris How – his mantra of valuing your customer's time and giving them small moments of delight strongly resonated with me. In accordance, I want to guide you through the content of the conference, with links to the core material that will best replicate what the SoBold team saw, whilst valuing your precious time.
GAVIN STRANGE : Less Thinkering, More Tinkering
A must watch to boost your levels of creativity. Gavin shares his personal and professional projects with Aardman Studios. Lots of useful insights into reaching the pinnacle of creativity. Highly engaging delivery, visuals and plenty of 'further reading' material. Definitely worth watching in entirety. Gavin Strange website – will give you a sense of his creative flair and influences. https://www.jam-factory.com/
"It's better to beg for forgiveness, than ask for permission."

Gavin Strange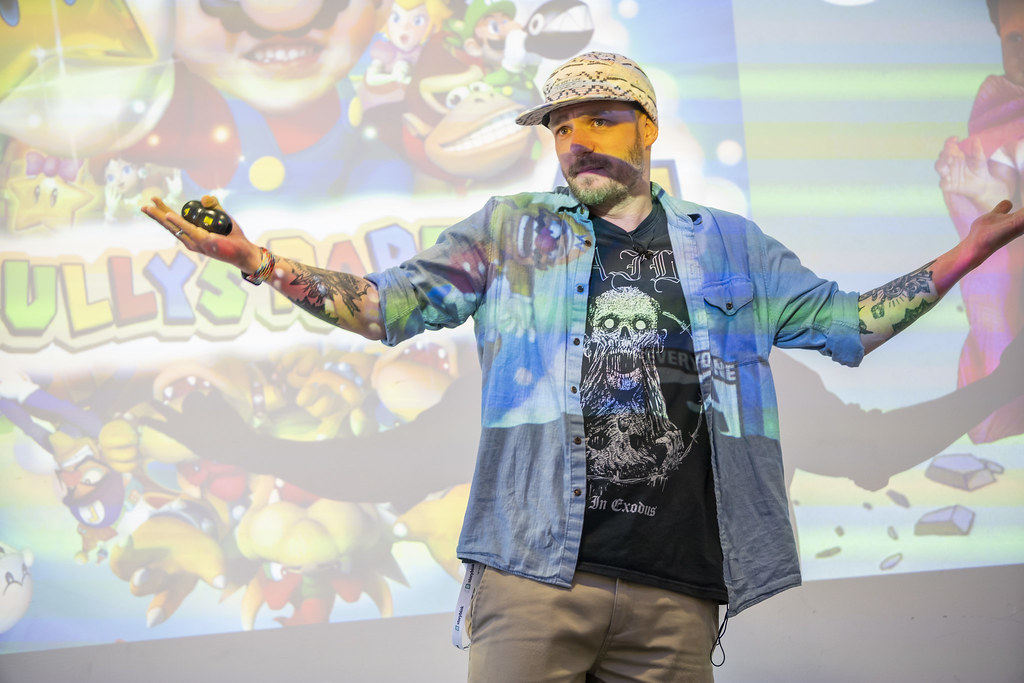 BIANCA BERNING : Variable Fonts – WTF?
From a technical and design standpoint, learning about variable fonts is incredibly useful. Towards the end Bianca veers into the potential application of variable fonts – imagine a world where your computer mutates its content to fit the viewer's specific needs. If you're looking for new avenues for unique artistic features for your website – this talk is for you. Everyone should have a play with variable fonts – try it here https://v-fonts.com/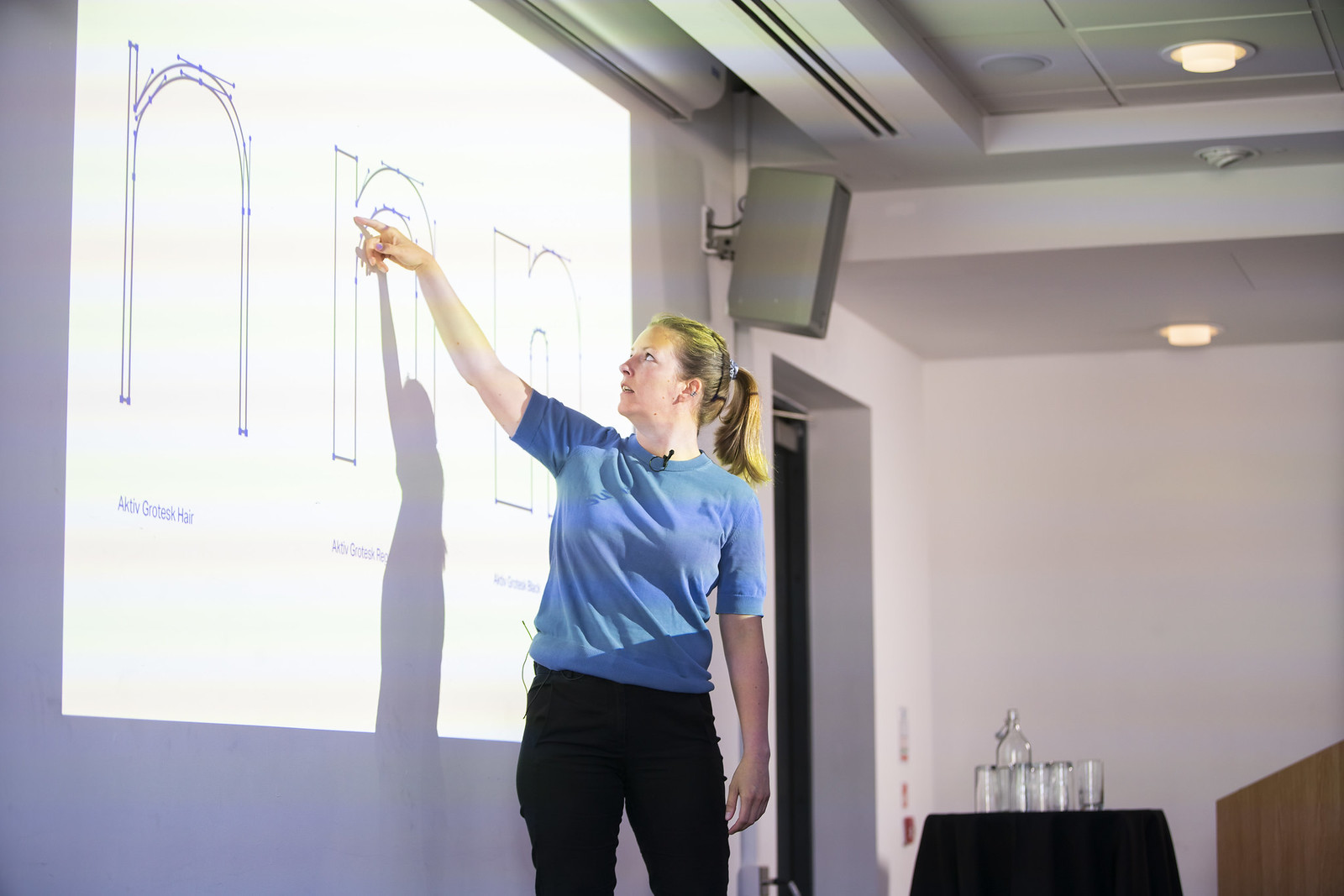 CHRIS HOW : You Got to Fight for the Right to Delight
Chris's choice of examples and commentary is intentionally entertaining and eclectic. His approach to design changes your criteria for success and also would decisively influence your next project. Essential viewing. Whether you're a seasoned designer or developer short of a design, this talk will give you a guiding direction. Information on the Kano product roadmap here. https://www.productplan.com/glossary/kano-model/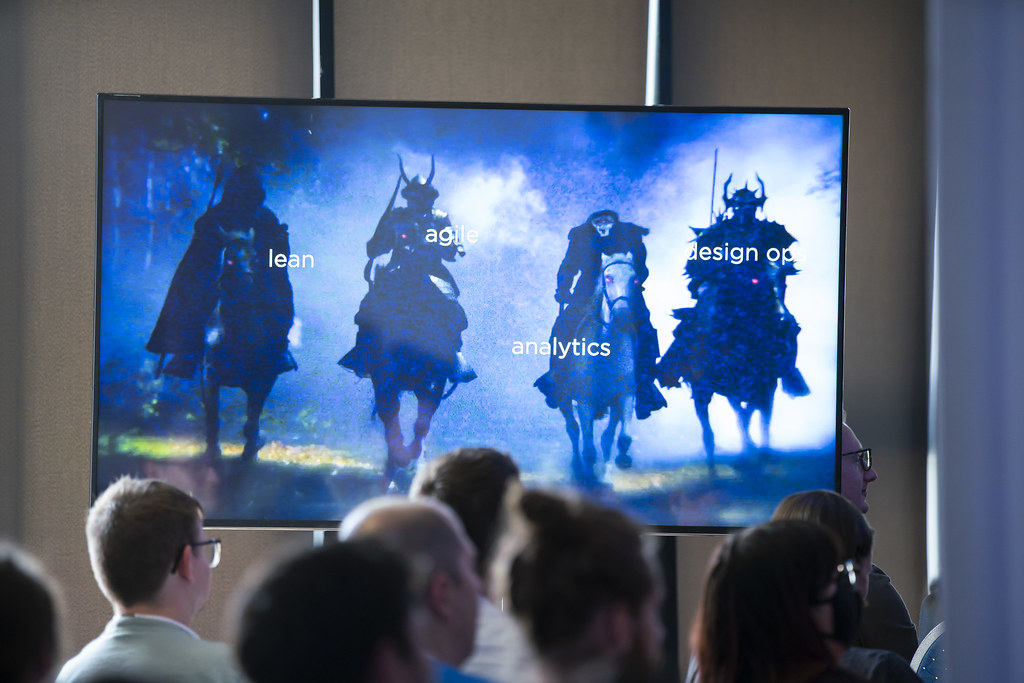 LÉONIE WATSON : Accessibility: The Land That Time to Interactive Forgot
Visually impaired people experience the internet through screen readers – the internet described in words. Léonie's valuable insight will definitely re-balance your priorities and appreciation for how websites should function. Some of the technical history she overviews was a bit lost on the audience but the switch in mindset is valuable. Important to dip into, especially for gleaming a deeper understanding of how a web document is compiled and loaded. It might sound 'techy' but it's like understanding how our lungs work – illuminating. If you haven't viewed any of your own websites using a screen reader – you definitely should. For a great sense of how the net is best experienced for visually impaired users – just check out her website – tink.uk
LUKE MURPHY : Lightning Talk: Design Tokens – Searching for a Source of Truth
Design Tokens act as a very useful tool for blending the boundaries of where design and development meet, in fact, they act as a technical element that affect design and development in equal measures. If you have no idea what a design token is – this talk could unlock a tonne of structure for your product. Here's an overview article on design tokens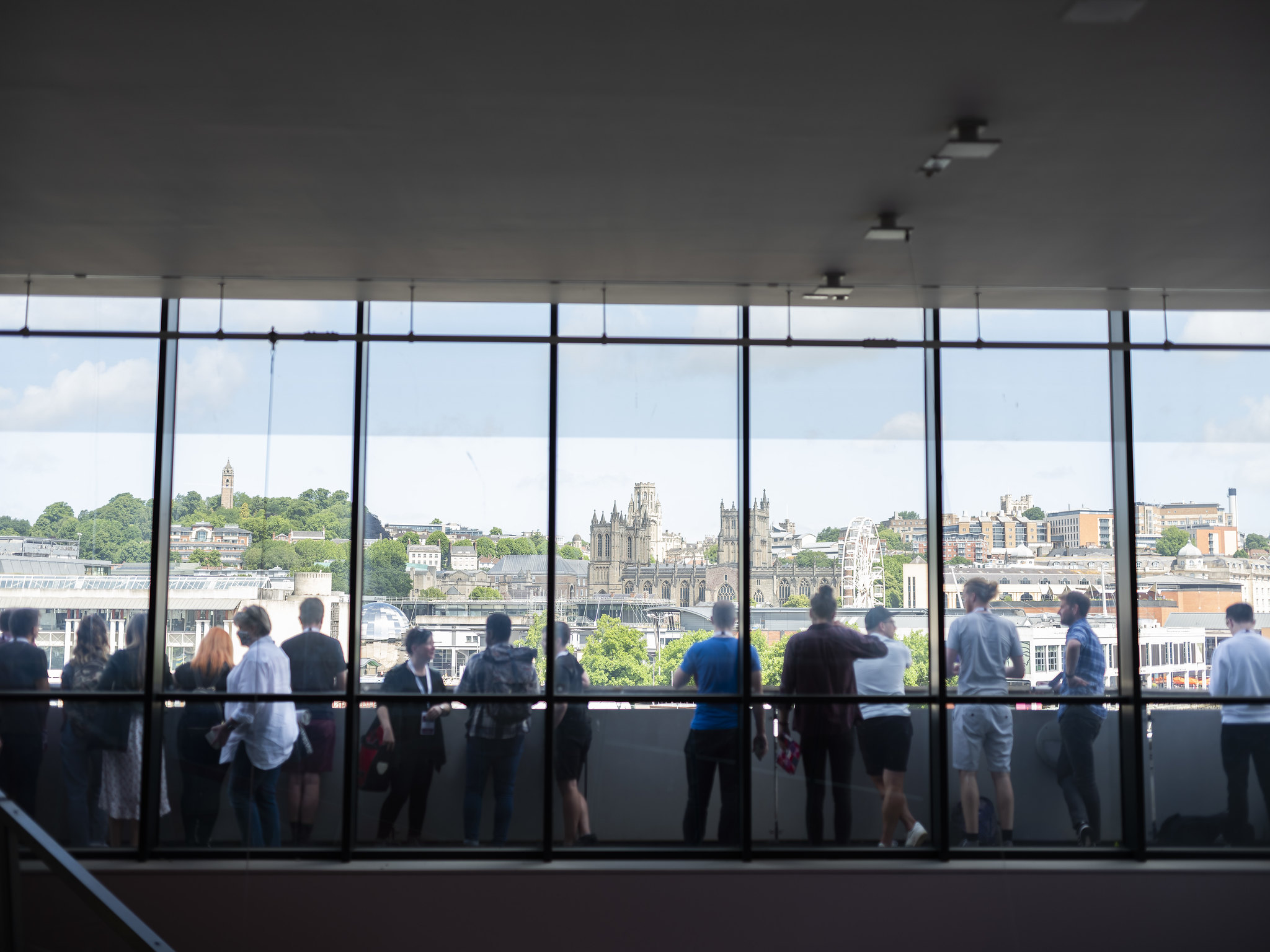 HANNAH SMITH : How to Make Digital Services More Sustainable
Hannah Smith's talk invited us to critique our energy consumption and make changes to our habits as both consumers and producers of digital content. She makes the case that space travel is a waste of resources, and that using less lays the path to fulfilment. See if her arguments resonate with you. Hannah's book recommendation – Doughnut Economics by Kate Raworth
JHEY TOMPKINS : Supercharge Your Skills with Creative Coding
A mad professor of CSS and JavaScript – Jhey has a mixture of technical tricks and interesting libraries for speech recognition. Deadpan yet full of colourful examples, Jhey clumsily demonstrates his collection of magical creations and challenges you, the developer, to break out of your 'siloed' mentality for visual presentation. Check out his catalogue of wondrous CSS/JS creations here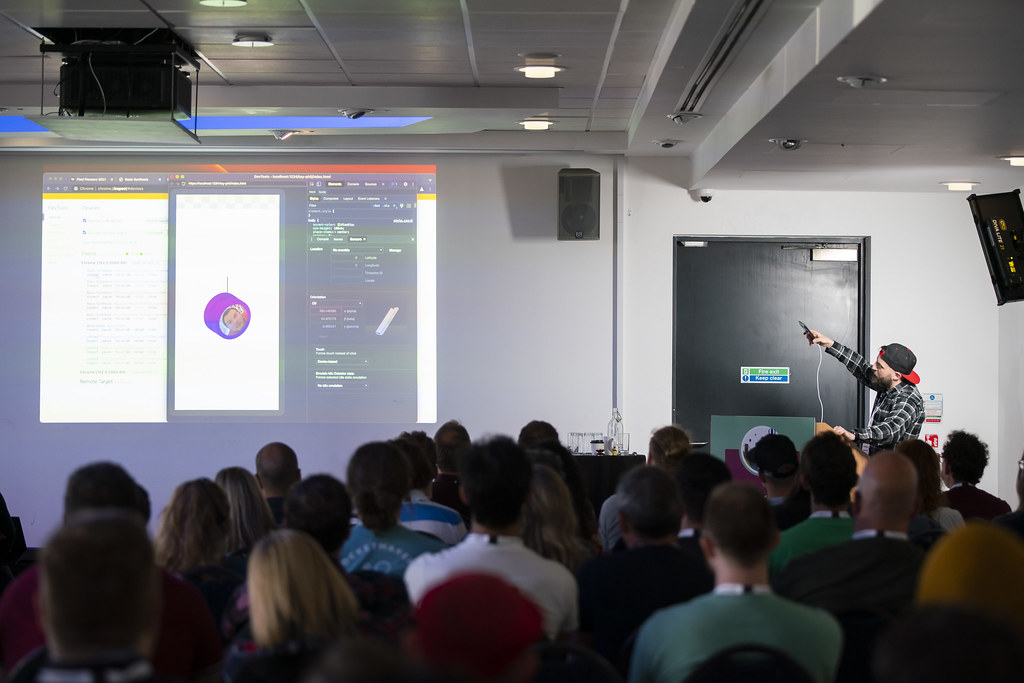 STUART LANGRIDGE : You Really Don't Need All That JavaScript, I Promise
Painting with the broad brushes down to the nat-hair infinitesimally small details, Stuart reminds us of the importance of returning to the basics in order to best utilise the web. Unfortunately some of the libraries he suggests do not have extensive compatibility and thus aren't for mainstream production… yet. His insight does provide a deeper understanding of the mechanics of the tools we use, although the message is quite drawn out. Example of the shared transitions js library https://codepen.io/drenther/pen/NjzeOO
RACHEL ANDREW : What's New in CSS?
Rachel Andrew – new css features either in or emerging from or newly arrived from CSS-land. Truly at the coalface of emerging CSS features. For a frontend developer it was akin to being shown new letters in the alphabet that were being proposed. A summary of similar information can be found here – https://www.smashingmagazine.com/2022/03/new-css-features-2022/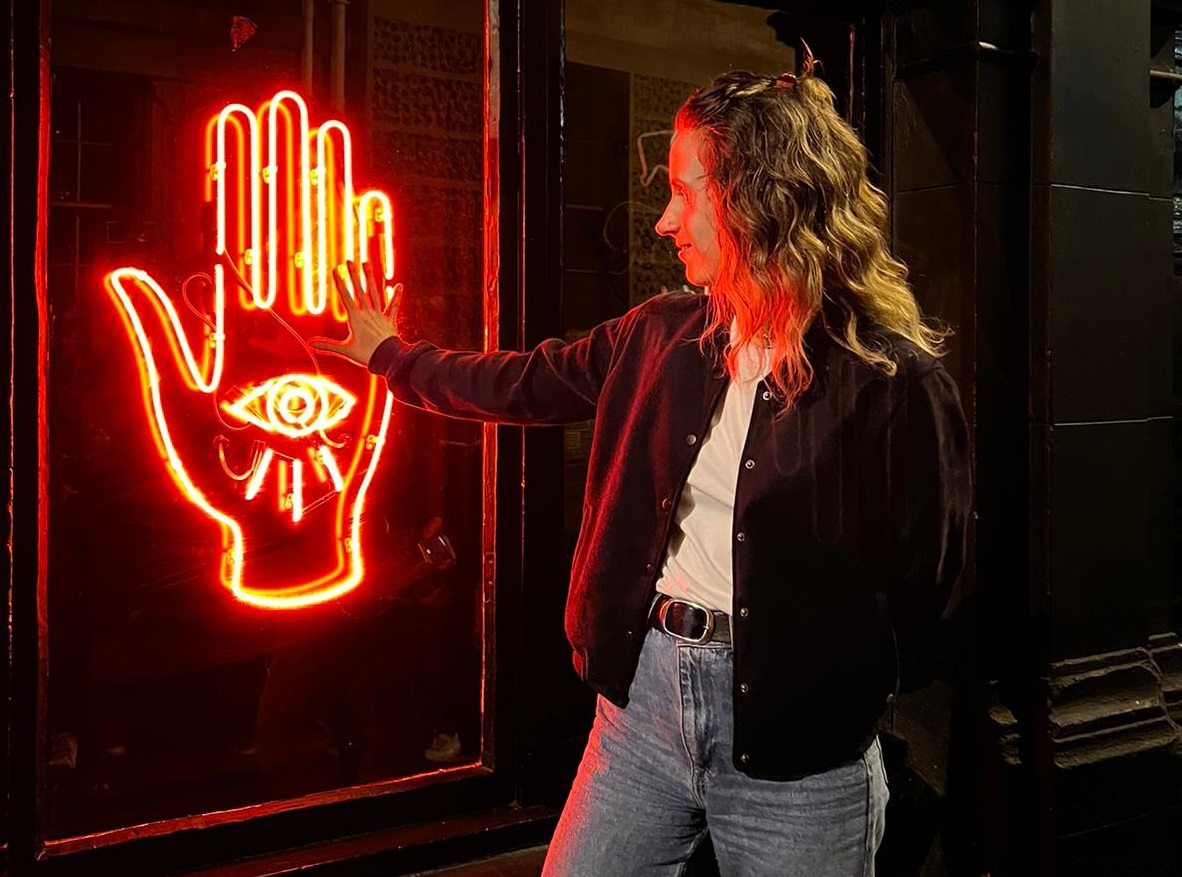 Bristol itself is well worth a visit – a centre for nightlife, hedonism and youthful idealism. Simply walking around the harbour area in the daytime will refresh your appreciation for one-of-a-kind shops and overflowing street art. Make sure you have plenty of free space in your phone for all the photos. The SoBold team had a very enriching experience and bonded even tighter as a team. I hope to see you at the next one!
Links to the conference videos will be available via the Pixel Pioneers website.
Would you like these insights straight to your mailbox?
Infinite Scroll vs Pagination. Which is better for you?

We recently had a friendly debate in our office of which we thought was a better experience but putting personal bias aside there is no right or wrong answer. It all depends on the type of service you are providing.

Content is what defines your website and the reason why your audience will return again and again. Choosing the right browsing experience based on your unique content will enrich the experience rather than leave your audience feeling confused and frustrated.

What is infinite scrolling?

I think it's fair to say at some point we have all fallen down the rabbit hole of endless scrolling. In short infinite scrolling is a technique used to fetch a continuous source of information as a user reaches the bottom of a page. Pinterest and Unsplash are great examples of the use of dynamic content.

What is pagination?

Pagination is the sequence of numbers used up to divide pages of content that a user can control, you'll see this commonly used on large e-commerce sites or information websites that update content regularly.

The pros and cons of:

Infinite scrolling

Pros:

Continually scrolling as we know is addictive, a pro…debatable but it does have a better usability experience than clicking

There is a better chance of user engagement

Users have the opportunity to discover new content with little to no thinking

Thanks to social media continuously scrolling on mobile has become the prefered way to interact with content

Cons:

There is no way for the user to reference or bookmark content of interest
If done incorrectly it can have an impact on site performance as the page needs to load infinite content as the user scrolls
Your user will never reach the footer which may house important information for them

Pagination

Pros:

Your pages will have a good conversion rate because as people are searching it will show in a specific list of items
It will give your users a scene of control and clarify how long it will take them to find what they are looking for.
A returning user will be able to identify quickly where the content is

Cons:

It obstructs the user experience which will lead to lower engagement rates
If not implemented properly can cause confusion
So which one is better for you? The bottom line is no ideal or stronger one, it all comes down to your UX and content requirements. The best thing to do is to analyse web and user goals and make decisions based on them.

Would you like these insights straight to your mailbox?

SoBold is a Proud Clutch 100 Fastest-Growing Company for 2021

Clutch is a B2B review and rating platform that spans the IT, marketing, and business services industries. The site annually holds an awards cycle to celebrate the best and brightest service providers from the aforementioned sectors. SoBold are delighted to be one of the Clutch 100 fastest-growing companies for 2021!

"The Clutch 100 growth lists represent the top service providers based on revenue growth over the years," said Clutch Founder Mike Beares. "Their recognition is only possible because of their willingness to participate and their commitment to delivering the best services to their clients."

"We are delighted to be recognized as a Clutch Leader. This award highlights our consistent project success and growth as a business," said SoBold Managing Director, Will Newland.

Would you like these insights straight to your mailbox?

SoBold selected to work with Transport for London

SoBold Limited (SoBold), a leading digital and web marketing consultancy, is delighted to announce that SoBold has been selected to work with Transport for London (TfL).

SoBold Limited (SoBold), a leading digital and web marketing consultancy, is delighted to announce that SoBold has been selected to work with Transport for London (TfL) to build, manage and support a bespoke Cookie Consent Management Tool for use across TfL's portfolio of websites.

SoBold's rapid growth over the previous 12 months has seen them become a leading player in the digital and web marketing space. SoBold's core offerings are now used by over 200 customers worldwide and we anticipate this customer base to continue to grow considerably over the next 12 months and beyond.

SoBold has been an authorised Reseller of Cookiebot since the new General Data Protection Regulation (GDPR) came into place on 24 May 2018. Cookiebot's tool consists of three main features: cookie consent, cookie monitoring and cookie control and SoBold work with their clients helping them manage, build and integrate these solutions onto their websites. SoBold now manage Cookie Consent Management for clients across numerous different industries.

Transport for London has completed a formal tendering process to procure a new Cookie Consent Management Tool for their tfl.gov.uk website domains. By procuring the tool, Transport for London is best able to align their approach to cookie management with the requirements of data protection legislation. SoBold will work with Transport for London, for a minimum of 12 months with the option of extending the contract for a further 24 months.

SoBold Founder and Managing Director Will Newland, commented:
"We are absolutely delighted to work with Transport for London. This gives SoBold the opportunity to work with a large, well known, corporation and we have no doubt we can play a big part in ensuring Transport for London's customers can feel safe and confident when sharing information about themselves on the TfL website. This further strengthens SoBold's position as a leading player in the Cookie Consent Management space."

SoBold Lead Developer Sam Phillips, commented:
"This is a fantastic opportunity for SoBold to showcase our experience in the delivery of bespoke Cookie Consent Management solutions across a portfolio of websites with millions of visitors per month. The contract with TfL cements our position as a leading CookieBot reseller in the United Kingdom."

Would you like these insights straight to your mailbox?

Clutch recognizes SoBold as a top web developer in the UK

As a web developer team, our responsibility is in providing support to other companies. We make sure that websites look and work well for the businesses that need them.

As a web developer team, our responsibility is in providing support to other companies. We make sure that websites look and work well for the businesses that need them. Our team serves as an expert extension of our clients so they can focus on their actual operations.

We take pride in our work and it looks like our efforts are paying off. We're very happy to announce that we've been given an award. SoBold was named as a top UK web developer by Clutch for the year 2021.

Clutch is a ratings and reviews company that uses a unique verification process that ensures all of the content on their platform comes from legitimate sources. They then leverage this information to create ranked lists of the best performers in every industry around the world. The best of the best then get an award.

The best part of all this award is that it's not decided by a panel of faceless judges. It's based on the reactions of the people that worked directly with us. They're the people in the best position to judge or critique our work. In fact, here's what our Director had to say when we got the news.

"We are absolutely delighted to be chosen as one of the leading WordPress Development agencies in the UK by Clutch and look forward to continued growth and development to fulfil our potential." Will Newland, Managing Director, SoBold.

If you want to partner with a team that will provide expert support and service to ensure your website is the best it can be, give us a call. Fill out our contact form and we'll set up an appointment as soon as possible.

Would you like these insights straight to your mailbox?

SoBold has become the exclusive digital partner for Clanwilliam Group

As of September 2017, SoBold has become the exclusive digital partner for Clanwilliam Group.

As of September 2017, SoBold has become the exclusive digital partner for Clanwilliam Group.

About Clanwilliam Group: Clanwilliam Group, headquartered in Dublin, Ireland, operate a number of industry leading brands in the private and public healthcare sectors across the Republic of Ireland, the UK, Australia, New Zealand as well as other worldwide locations. Formed in 2014, Clanwilliam has rapidly expanded in size, now with over 15 brands under the Clanwilliam Group umbrella. Clanwilliam is driven to establish itself as a global group of highly synergistic healthcare technology and services businesses.

About SoBold: SoBold Digital Marketing, founded by Managing Director Will Newland in 2014, work with companies and brands deriving from an impressive multitude of sectors including Healthcare, Fitness, Luxury, Hospitality and more. With a growing portfolio of over 80 brands, SoBold has a proven track record of delivering expertly crafted digital marketing solutions to help small and medium sized businesses grow and flourish.

We are delighted to become Clanwilliam Group's exclusive digital partner. Clanwilliam is rapidly increasing their reach in the Healthcare sector and we at SoBold are proud to work with them to implement a powerful digital strategy.

Would you like these insights straight to your mailbox?